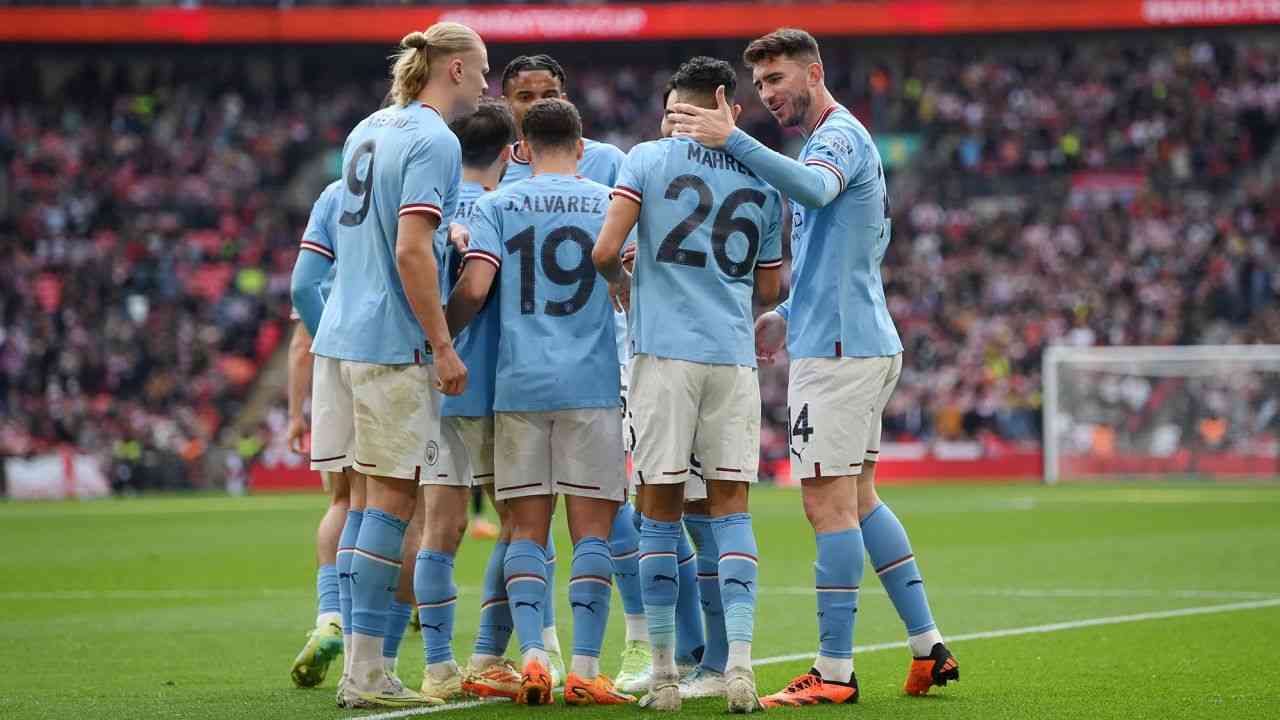 RIGHT now we are all being mesmerized by a stunning blue moon that is visible even during daylight hours, but is especially and marvellously magnified at night.
This radiant blue moon is being seen far and wide across all corners of the globe indicating the presence and arrival of the new world power, irresistible new force, a giant that is dominating our lives and will continue to do so for the foreseeable future.
This blue moon is domiciled in the city of Manchester and has had a most profound impact on all our lives, but more so of course in the city of Manchester itself where an urban tale is already doing the rounds that the blue moon has managed to quell and tone down the volume and visibility of the notorious pompous Red Devils!
If the Red Devils have generally been in need of a good old spanking and lessons in humility, the same cannot be said of Arsenal who sadly were on the receiving end of the most comprehensive capitulation in midweek.
Their four goals to one thrashing by Manchester City must go down as one of the most lopsided top of the table encounters in modern day history.
City from the outset came across as confident, sure of themselves, determined and fearless.
Arsenal on the other hand appeared meek and shy, confused and lacking assurance, all at sea, their men rudderless, petite and very afraid.
That City laid siege on the Arsenal goal all match was not entirely surprising as they do so with just about every single team that they come up against.
That this season's Arsenal who had bossed the EPL literally from week one had absolutely no idea or plan to deal with it, now that was entirely surprising.
Even die hard, tied to Highbury Arsenal Gooners did not expect to arrive at the Etihad and control proceedings.
This was no cushy first class Emirates flight of fancy they were embarking on.
They certainly though had no reason to believe that they were about to be taken on a flight of fright where they were having to say their prayers constantly fearing for their demise every single moment.
They could not and neither could all of us watching, have expected Arsenal to simply lay down their guns and allow City to steamroll and walk over all of them like Jonah Lomu did when his New Zealand All Blacks slaughtered England in the World Cup Rugby semis in 1995.
I refer to the late Jonah Lomu because he was to Rugby Union what Erling Haaland is to the game of football.
Both were lucky to be blessed with physical attributes which gave their sides a phenomenal advantage over their opponents.
I have etched in my mind for life that image of Lomu stepping over Mike Catt the England fullback as he left a trail of destruction in his wake.
Likewise I pitied poor Rob Holding of Arsenal who was the latest example of a competent quality defender being made to look like a futile fool as the Viking butcher Haaland terrorized all in his path towards the goal.
Arsenal with Arteta in the dugout had no Arsene to assist them as well as no answers to the blitz spearheaded by the Viking vulture and goal poacher Erling who was aided impressively by his partners in crime, Kevin De Bruyne, Jack Grealish and Bernardo Silva.
With Arsenal no longer in control of their own destiny and with the likelihood that the title has been lost, the question is how do we judge them this season?
Do we, from the comfort of our Lazy Boy lounge suite recliners, have the right to label them as bottlers simply because Wednesday's performance clearly showed a lack of fight?
Can we from our armchairs honestly criticize an Arsenal side that at the beginning of the season was given little chance by the critics of making the top four, let alone contest for the EPL?
Is it just or fair to come down hard on a side that has led the EPL in fine style all season only to be reigned in on the home straight by the ultimate professionals, masters and recent serial EPL winners Manchester City?
After all, Arsenal may eventually be forced off their cushy perch at the top of the table but it's going to demand one helluva final jockey from the sky blue citizens of Manchester.
To accurately put things into a points tally perspective, Arsenal have already attained six more points than at the same stage last season with a further five matches still to play.
Perhaps the expectation of title success which their outstanding form created, was unreasonable, given that their wafer thin squad was always just an injury or two away from a potential crisis.
Perhaps we all ought to have been reflecting on the incredible season Liverpool had last year when they too were unfortunately overtaken by City at the death.
Perhaps then we ought to congratulate Arsenal and not be too critical of a side which has already massively surpassed its pre-season aims and in the process demonstrably given City the fright and fight of their lives.
At this juncture may I humbly suggest then, that instead of criticizing Arsenal for being on the bottle, we should rather applaud Manchester City for being at full throttle!
This is also the moment when I come clean and formally apologise in writing to the master tactician, manager supremo, footballing mastermind extraordinaire Senor Josep Guardiola Sala.
Not long ago, with City going through a somewhat awkward patch,I had the audacity to ridicule him and suggest that City should act to rid themselves of him on the basis that he was about to fail them in both the EPL as well as the UEFA Champions League.
At the time, I was not alone in questioning his tactics, I was not alone in debating if Haaland was a suitable fit in a Guardiola team, and I was clearly too, also not alone in believing that there was no way that City could embark on a perfect run which would see them overhaul an Arsenal side who at the time, dare I say it, seemed invincible.
And yet come Wednesday, I and many others were forced to eat humble Peppery Pie as not only did Manchester City make it absolutely clear that they are now overwhelming favourites to pip Arsenal to the EPL title, but the manner in which they did so, suggested that we had all been absolute utter fools all along to even dare to think that they wouldn't climb to the summit.
City's performance on Wednesday night was as close to the perfect performance possible by a professional football team.
City didn't just defeat Arsenal; they obliterated them, they annihilated them in a performance of unyielding magnificent speed,strength and skill.
While Arteta was guilty of slowness in acting to stem the tide, I doubt if any side on the planet could have lived with City on the day.
For Arteta, his saving grace in what is ultimately still a sensational season for the Gunners no matter where they finish, is that he would have lost out on the title to Pep's Manchester City.
For Guardiola and City, the future is a very bright blue.
However if City go on to win what would be a tantalizing terrific treble, I truly believe that Guardiola will reluctantly concede that this Manchester City side that he has so magnificently put together, is on par with his all-conquering exquisitely beautiful soccer Barcelona sides of 2009 and 2011.
Now that ladies and gentlemen, would be the ultimate accolade!
Feedback: Twitter @thesoccerwhiz
Related Topics