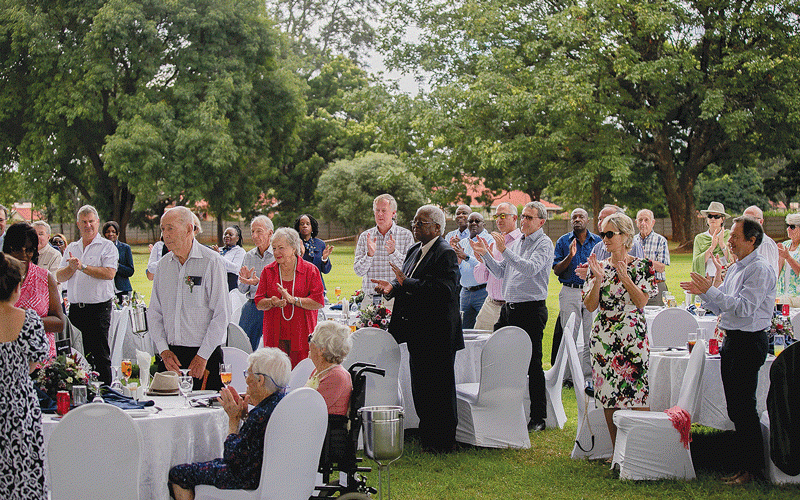 It is a special year for one of the country's premier golf clubs Royal Harare as it celebrates its quasquicentennial – 125 years of existence.
Royal Harare was founded in 1898, but the course was established on the current location in 1901 and remains the leading and best-managed course in the country and on the continent.
Originally known as Salisbury Golf Club, the club was granted Royal Patronage in December 1929 and has to date remained part of the "Royal" family of golf courses around the world.
The name changed again to Royal Harare Golf Club at Independence in 1980.
The club has already done a number of activities as a way of celebrating the jubilee and making the year a memorable one while there is plenty more in store.
"2023 is a very special year for the club as we celebrate 125 years of our existence. We started the year with an official flag raising ceremony on March 1, 2023, which is the first day of our new membership year, which was attended by officials of the club. We raised our specially commissioned flag which will fly proudly for the remainder of this membership year which ends in February 2024," general manager Ian Mathieson said.
In April the club hosted a luncheon under the trees between the 10th and 18th fairways to recognise members who have more than 35 years of service.
The longest-serving member of the club is Mike Clinton, the architect who designed the clubhouse and has 63 years of unbroken membership at the club.
On July 22, as part of the 125th anniversary celebrations, Royal Harare held a Charity Golf Day which benefited Musha Wevana Children's Home in Marondera, Tariro Orphanage in Kadoma and Society of Destitute Aged (SODA) in Highfield, Harare.
About 160 golfers took part in the event which raised about US$10 000 in goods and services, and another US$9 000 in cash.
"Musha Wevana got 40 new mattresses for the children, as well as a brand new deep freezer and food, bed linen and clothing and we will also be curtaining the children's home.
"Tariro needed a new gas stove and gas cylinder and a new fridge. They also got food, clothing and bed linen and we will also put curtains up in the orphanage in due course.
"SODA needed an area ploughed which Duly's kindly obliged and sent their team out to plough the field. Royal Harare will assist with installing an irrigation system to help them water their crops and we will provide some repairs and maintenance around the home, as well as delivering food clothing and bed linens," Mathieson revealed.
In September, Royal Harare will launch a brand new annual mixed event for men and ladies, individual and teams, to be played over two days known as the Jacaranda Challenge.
"We have invited teams from all of the Royal clubs around the world, and are happy to report that we have a team coming from the home of golf Royal St Andrews, as well as a team of ladies coming from Royal Colombo in Sri Lanka.
"We are hoping that teams from the other African Royals, namely Royal Nairobi, Royal Durban, Royal Cape, Royal Johannesburg and Kensington and Royal Port Alfred will all send teams to join us. All local clubs will also be invited to take part in what will be a celebration of our 125-year history and the promise of many successful years of the Jacaranda Challenge to come," said Mathieson.
There will also be the annual Caddies Championship as well as the Staff Golf Day which is going to be held in November and December while celebrations are set to conclude on February 29 2024 with the lowering of the Quasquicentennial Flag.
Mathieson took the opportunity to highlight some of the club's achievements over the years.
"I believe that our most notable achievement in the last 125 years is to still hold the position as the premier golfing destination in the country. We have hosted the Zimbabwe Open every time that it has been played since being reintroduced in 2012, and always to the very highest praise from the visiting professionals who come to play.
"We are also incredibly proud of our junior development program for both boys and girls. The first-ever Leadbetter Academy on African soil was established at Royal Harare Golf Club and has produced some fine young golfers. We are especially excited by how well our young girl golfers have fared, representing the club and the country in international events in Kenya, South Africa, Ghana, Egypt, Zambia, Botswana and doing extremely well.
"Two of our young junior girls have been accepted into US universities with 70% bursaries, and we are fundraising to try to help them realise their dreams. Kudzai Mandava and Primrose Chikwaya have both played golf for Zimbabwe, and been very successful. Kudzai is the current ladies club champion and Primrose won the Mashonaland East/West Strokeplay played at Norton in March this year before finishing runner-up in the Zimbabwe Ladies Amateur stroke play at Chapman in July.
"Michael Wallace continues to show his fine form and won the Zimbabwe Amateur recently. In 2022 the club had the opportunity to send three of our ground staff on a learning experience to Ohio State University.
"This was a wonderful opportunity for the three young students who got to work alongside highly experienced ground staff at some of the most famous courses in America, setting up and preparing the courses for some of the major PGA events, including the Player's Championship this year," he said.
Collaboration with the Pro Shop Zimbabwe also saw the establishment of the first-ever on-course Pro Shop franchise in southern Africa at Royal Harare.
Royal Harare is a typical parkland course which has at least 57 of the 550 species of Zimbabwe's indigenous trees, as well as 51 non-indigenous trees along the course.
The well-manicured fairways are planted with kikuyu grass and the greens are bent grass, which was introduced in 1986.
More than 74 species of birds have been identified on the course.
Related Topics