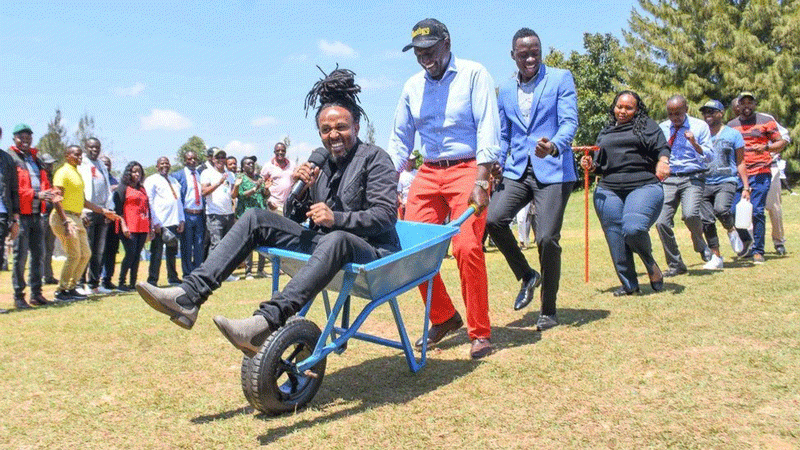 Continued from last week...
This article is a continuation from last week's article titled How the hustler narrative won Ruto Kenya's presidency and seeks to articulate how the "golden handshake" and the well-built "hustler narrative" could have landed Ruto Kenya's top job.
Ruto overturns the "golden handshake" to his advantage.
For Ruto, the entrance and inclusion of Raila Odinga into the "one big family picture" through the Building Bridges Initiative (BBI) probably posed a threat to his presidential ambitions.
In Ruto's head, the BBI or "golden handshake" could have been the biblical moment of the return of the prodigal son and carried metaphorical implication of Kenyatta killing a huge beast for Odinga much to the annoyance of the loyal number two (Ruto), whose power and influence now seemed to be indirectly diluted.
For Odinga, although his intention was to unite Kenya, the same handshake could have been misinterpreted by his supporters as the betrayal of the masses and created the impression of the return of the old political dynasties, which had dominated the country'searly political history.
For years Odinga had established and earned his reputation as a champion of democracy and good governance and his association with the tainted image of Uhuru and Jubilee government could have cost his political capital as many probably assumed that it would be the indirect continuation of an "Uhuru Presidency".
Thus, Ruto quickly mastered that if he were to win the Presidency, he would need to market himself as a "victim" or "outsider" in Kenyatta-led Jubilee government whilst building a strong political narrative which would in turn distance himself from the political dynasties of the Uhuru and Kenyatta (families) and positioning himself as the country's next leader and it is probably out of this realisation that the "Hustler Narrative" was born.
Building the "hustler narrative"
Ruto began building his narrative as that of a "chief hustler"–the former chicken-seller and businessman turned politician who, due to his fall-out with his boss Kenyatta,did not deserve to succeed him because of his poor background.
Whilst speaking at one of the political gatherings in the run up to the August elections, Ruto is reported to have said: "Some people are telling us sons of hustlers cannot be president, that your father must be known. That he must be rich for you to become president. We are telling them that even the child of a boda boda or kiosk operator or cart pusher can lead this country".
Considering Kenya's divisive ethnic politics which for years always threatened to tear the country apart, Ruto realised that if he were to make it to the top hot seat,he would need to do away with divisive politics whilst capitalising on the "golden-handshake" and the endorsement of his rival by his boss.
Ruto, therefore, twisted the narrative to make the electorate focus on how Odinga had been born with a silver spoon,
"On dealing with hustlers, Raila should leave that to me. He does not understand the plight of the hustlers. He is the son of a vice-president and he was born being driven around"
This master-strategy evoked sympathy and laid the foundation of Ruto's election campaign.
And the hustler narrative resonated with the youths and masses
Ruto built his narrative as that of a "village boy" who pushed a wheelbarrow and was a chicken seller in his youth and with Kenya's official unemployment rate at 40%, this narrative quickly captured the hearts of most ordinary people in particular the youths.
It seems the narrative appealed to most Kenyans who, judging by the low voter turnout seemed bored and exhausted by decades of political divisions centred on ethnic and tribal conflictat the expense of bread and butter issues.
As such, Ruto's bottom up economic model which he said was aimed at empowering people at the bottom of the economic and social pyramid is anchored on the tenets of equity seemed to have done the magic in landing him the country's top job.
William Ruto may have occupied Kenya's top hot seat but his narrow victory means that as the new president,he faces a mammoth task of uniting a divided country including reaching out to the other half of Kenyans who voted for his main opponent.
And willthe village boy and chief hustler-cum-president fulfil his election campaign promises in creating a hustler nation and uniting a divided nation?
Only time will tell.
Fungayi Sox works at TisuMazwi — a communication centred social enterprise which specialises in book publishing and storytelling projects, including book editing and printing, autobiographies, biographies, memoirs, ghost-writing, content creation and digital media. He writes in his personal capacity. For feedback contact him on 0776 030 949, follow him on Twitter @AntonySox, or connect with him on LinkedIn on Fungayi Antony Sox.
Related Topics