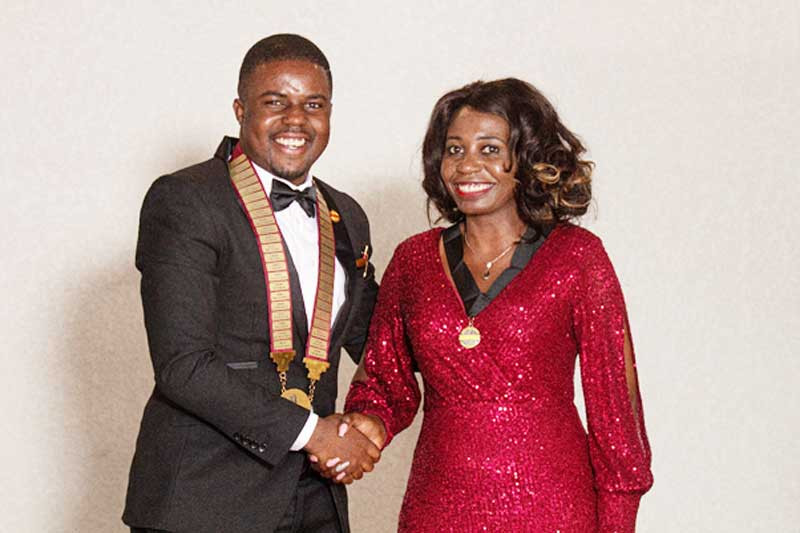 August 27, 2022 became a historic day as the world's leading communication and leadership-centred organisation, Toastmaster's International officially launched its newest branch at Sprayview Hotel in the resort town of Victoria Falls.
The grand-entrance is the first of its kind in the resort town and is expected to be a game-changer in light of the current drive to market the country as a tourist destination.
Toastmasters International is a world-wide non-profit educational leadership and communication development community which has churned out thousands of transformational leaders across the globe.
Headquartered in Englewood, Colorado in the United States, the organisation membership exceeds 300 000 in more than 16 000 branches in 149 countries. Toastmasters Southern Africa boasts of 250 branches in Angola, Botswana, Eswatini, Lesotho, Malawi, Mauritius, Madagascar, Mozambique, Namibia, Zambia, South Africa and Zimbabwe.
Dubbed The Charter Dinner, the celebratory event which was officially opened by Victoria Falls mayor Somvelo Dlamini also marks the grand entrance of Toastmasters in the Matabeleland region.
In his speech, Dhlamini said: "Speaking and communicating well is pivotal in growing and sharing ideas so as to enhance human relations".
Dlamini challenged the new chapter members to be ambassadors, who will market Victoria Falls as the prime tourist destination.
Newly-elected CEO of Toastmasters Southern Africa Andrew Tsuro emphasised the historic significance of redefining leadership in the resort town and added that the new club had all it took to make the entire city prominent by marketing it as a tourist destination.
"We do not have to wait for visitors to show you the way to your own home. We have all it takes to make our city prominent, your town needs more of your hand and contribution," said Tsuro.
Tsuro, is described by many colleagues as "an enthusiastic entrepreneur and pacesetting leader who thrives on exceeding expectations". He has been on a global spree of redefining leadership having recently visited the United Kingdom and the United States for the Toastmasters International Convection.
At the event, Toastmasters Business Development Director for Zimbabwe, Future Moyo was accorded the Distinguished Toastmasters(DTM) title–the highest communication and leadership accolade of excellence awarded by the organisation.
Toastmasters also inducted new members who are expected to steer the Victoria Falls chapter forward.
Apart from Tsuro, Zimbabwean Toastmaster's members continue to make the country proud on the international stage.
Recently, a 24-year-old Poland-based Zimbabwe-born Cyril Junior Dim was crowned the world champion at the 2022 Toastmasters World Championship of Public Speaking. The competition was concluded at the Toastmasters International Convention recently held in Nashville, the United States.
He earned the honour with a speech titled Ndini, which in Shona means "This is me" — a speech which centred on identity and was an extremely personal and touching one where he talked about struggling with the two parts of him that being his Nigerian and Zimbabwean heritage.
Dim, along with seven other final contestants, reached the championship level after several elimination rounds which initially began over six months ago with 30 000 participants from 144 countries.
According to Future Moyo, the organisation is also planning to host the Toastmasters Southern Africa Conference in Victoria Falls in May next year.
Under the Tourism Recovery and Growth Strategy, President Emmerson Mnangagwa has challenged the nation to upscale the facilitation of tourism in all enabler sectors so as to promote increased demand and sustained tourism performance and to work with unity of purpose in unlocking and fully exploiting the potential of Zimbabwe's Tourism Sector.
Fungayi Sox works at TisuMazwi — a communication centred social enterprise which specialises in book publishing and storytelling projects, including book editing and printing, autobiographies, biographies, memoirs, ghost-writing, content creation and digital media. He writes in his personal capacity. For feedback contact him on 0776 030 949, follow him on Twitter @AntonySox, or connect with him on LinkedIn on Fungayi Antony Sox.
Related Topics