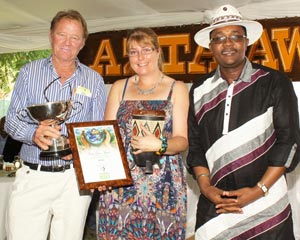 USING the theme Live, Love, Think Green, the Association of Zimbabwean Travel Agents (Azta) hosted its annual awards ceremony in late September as an environmentally-driven luncheon this year, using the backdrop of the trees and lawns of Harare's Cresta Lodge as an ideal venue for an event aimed at promoting awareness of and action on green issues.
Each year the Azta Awards are held at a different venue and with a different format and theme, in order to create excitement for what have become some of the country's most prestigious travel and tourism accolades.
Speaking at the ceremony, Azta chair Laura Evans said the more than 250 guests had come to honour award recipients and to have an enjoyable afternoon of networking and socialising in the very green pleasant surroundings of Cresta Lodge.
"As is well-known, the Azta Awards are the principal means by which we travel agents  recognise colleagues across the travel and tourism sector for their efforts in achieving excellence in their given fields and, for doing all they can to make Zimbabwe a destination of which we can all be proud. It is a time for us to say well-done and thank you and to extend the hand of friendship and partnership to you all.
"The Azta committee tries to make each year's event enjoyable and memorable, as well as exciting and unique, and this year's green theme not only makes sense in respect of this venue, but also in respect of a general effort being made all around the sector to do good things environmentally speaking. I hope you all like the venue, the décor and the theme, as well as the food and the entertainment.
"September is, of course, tourism month, and culminates in the national celebration of World Tourism Day on September 27, this year at Kariba. It is fitting, therefore, that the Azta Awards are given out at this time, as Azta's small but meaningful contribution to the overall commemoration of tourism and all that it means for our country. Our aim is to reward and encourage excellence in travel and tourism operations, which is positive in this overall context.
"I don't have to tell you we are now less than a year away from the United Nations World Tourism Organisation conference at Victoria Falls, which will, we hope, be a major boost for tourism at Victoria Falls and elsewhere. Our colleagues in the Hospitality Association of Zimbabwe have themed their 2012 congress Into The World Spotlight, which accurately reflects what we hope this important meeting will do, and it is to be hoped that every one of us in tourism will do ourselves and our country proud by our efforts with regard to anything to do with this conference.
"In this volatile world economic environment, travel and tourism have suffered a great many blows, and the past few years have been a roller coaster of a ride for the worldwide industry. There are signs of improvement, however, and it is to be hoped that any improvement in the world economy will have a benefit in terms of increased numbers of travellers, especially from those economies which have been hardest hit by the downturn of the past few years.
"The theme this year is the environment, which we have done in order to draw attention to the symbiotic role of tourism and environment. It is vital that each of us makes a commitment in our private lives and our business ventures to be conscious of our impact on the environment and of what we must do to preserve and protect it for now and for the future."
All the winners
AZTA trophies and certificates were this year accompanied by drums for winners in the various award categories. The full list of winners and runners-up, as decided by vote among members of Azta and based on travel agents' views and feedback from their customers:
Best car hire company — Avis; runners up: Europcar and a tie between LED and Rockshade.
Best tour operator — Sunset Tours; runners-up: Shuttle Tours and a tie between Tourism Services Zimbabwe and Wild Horizons.
Best service provider — Shearwater Adventures; runners-up: Wild Horizons and Tourism Services Zimbabwe.
Best offline carrier (an airline not flying into Zimbabwe but handling passengers from Zimbabwe) — Qatar Airways; runners-up: Lufthansa and Virgin Atlantic.
Best regional airline – Kenya Airways; runners-up: South African Airways and British Airways operated by Comair.
Best international airline — Emirates; runners-up: Kenya Airways and a tie between South African Airways and Ethiopian Airways. Best safari camp — The Hide near Hwange; runners-up: Ruckomechi at Mana Pools and Antelope Park near Gweru. Best safari lodge — The Victoria Falls Safari Lodge; runners-up: Bumi Hills Safari Lodge and Hwange Safari Lodge.
Best resort or country hotel — Leopard Rock; runners-up: Inn On Rupurara and The Victoria Falls Hotel.
Best city hotel — Meikles Hotel (18 years in succession); runners-up: Crowne Plaza Monomotapa and Rainbow Towers.
Best travel agent (as decided by the airlines) — Premier Travel; runners-up: Wings Travel and Phileas Fogg.
Best voluntary service to Azta and the industry — Laura Evans; runners-up: Wendy Bourne and Ross Kennedy.
Special category for individuals in travel agencies — consultant who follows the rules: Tanzila Leeya (Wings Travel); most improved consultant: David Harid (Premier Travel); best travel consultant: Dennis Mashamba (Genesis Travel).
Special awards for lifetime achievement — Sue Cox (past chair of Azta and board member of ZCT); Paul Matamisa (past president of HAZ and ZCT); Rosey Bruce (former committee member Azta); David Chapman (founding ZCT chairman and 50-year veteran of the Zimbabwean travel and tourism sector); Sarudzai Muza (Civil Aviation Authority of Zimbabwe).
Contribution to the well-being of the environment — Imire Game Ranch (wildlife conservation in general and rhino conservation in particular); runners-up: Miracle Missions (Harare Waste Management and Clean-up Campaign) and Kariba Animal Welfare Trust Fund (Kariba conservation and clean-up activities).
Related Topics