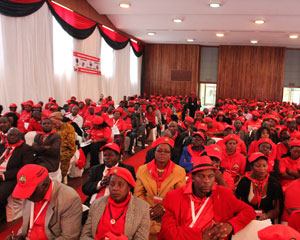 MDC-T leader Morgan Tsvangirai yesterday stood brave rallying his supporters to stay put, and not be discouraged by the massive defeat in the just-ended harmonised elections.
BY OBEY MANAYITI AND CLAYTON MASEKESA
Addressing a half-empty Sa-kubva Stadium in Mutare yesterday during the party's 14th anniversary, Tsvangirai urged supporters not to give up until it dislodged Zanu PF from power.
He said the MDC-T remained relevant and the biggest platform to bring governance change in Zimbabwe.
"I want to congratulate you all for winning the elections, for voting for change," the MDC-T leader said before a thunderous applause. "But there were thieves who do not want the people of Zimbabwe to be free."
Tsvangirai said his defeat and that of the MDC-T was due to massive rigging by Zanu PF, claiming this has thrown the whole nation into "mourning and created a serious national crisis."
He said MDC-T remained the answer to the country's problems, hence his message that people should not to be despondent.
Tsvangirai said when the MDC-T was formed, the party knew it was not going to be a walk in the park to unseat Zanu PF.
"In this struggle, the party will not be held captive by shenanigans such as election rigging," he said.
Tsvangirai said under a Zanu PF government, the economy and the general livelihood of its citizens has gone under, due to mismanagement and corruption.
He said the MDC-T would continue to use peaceful means to unseat Zanu PF.
The MDC-T leader said although Zanu PF was in power, the ruling party had no clear agenda.
He outlined several ways in which the elections were allegedly rigged by Zanu PF.
Tsvangirai said his party always believe in legitimate elections maintaining that the struggle would be completed through free and credible elections.
"As a party, we have been meeting and engaging the people on the mass line. From today onwards, we will continue coming to your branches and villagers to talk about the way forward," said Tsvangirai. "We want to engage the people, so that they tell us what action we should take. We will be there with you and we will maintain our vision. We shall protect our space."
Meanwhile, about 10 MDC-T supporters from Chitungwiza who were on their way to attend the anniversary celebrations were arrested for undermining the police authority, the party's spokesperson said. Douglas Mwonzora said the supporters were picked before they arrived at the venue.
He said this was a ploy by security details to intimidate people from attending the celebrations.
Lawyers representing the supporters confirmed the detention. "They are facing charges of undermining police authority. It is reported that the driver failed to stop after being ordered to do so by traffic police. Police on patrol then followed the supporters where a misunderstanding ensued," said lawyer Chris Ndlovu.
"Likelihood is that they will go to court on Monday," added Ndlovu.
Related Topics