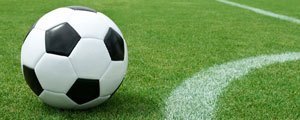 How Mine . . . (1) 1 Hwange . . . 0
BY Fortune Mbele
A 19th minute goal by Sizalobuhle Dube set How Mine on a good path to survive relegation, when they beat Hwange in a balanced Castle Lager Premier Soccer League at Luveve yesterday.
How Mine shot from position 10 to seven on the log table with 38 points to secure their stay in top flight football with three matches remaining in the league.
That goal was always coming for the gold miners as they piled pressure on Hwange and a long throw in by left-back Khumbulani Banda found an unmarked Dube who headed the ball past Hwange goalkeeper Takabva Mawaya.
How Mine defended the goal to the end. Assistant coach Simba Rusike is confident that How Mine, who are left with Monomotapa, FC Platinum and Tripple, are safe from the chop. "We played as a team as we build up to our Mbada Cup semi-final tie against CAPS United. We are definitely surviving relegation as we have gone to 38 points and probably now in the top eight or six," Rusike said.
Despite losing to How Mine and remaining on 35 points, dropping to position nine, Chipangano head coach Nation Dube also brushed aside the thought of playing in Division One next year. "We still have three games remaining to go and we are surviving relegation. How Mine won because they scored but we were better on performance," Dube said.
Hwange could have equalised two minutes after Dube scored, but skipper Hebert Dick came to the gold miners' rescue after his twin centre-back Gilbert Banda had fluffed on a clearance and Dick had to intercept a strike by Chipangano's Gilbert Zulu.
Related Topics