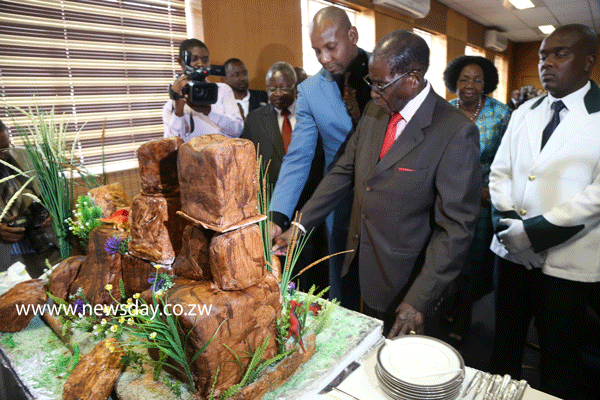 President Robert Mugabe yesterday gathered thousands of his supporters near the historic Matobo hills to celebrate his 93rd birthday, oblivious of the plight of hundreds of Tsholotsho villagers displaced by recent floods.
Comment: The Standard Editor
According to various reports, the celebrations at the Rhodes Estate Preparatory School cost over $2,5 million.
Most of the money was siphoned from struggling state enterprises and starving villagers as well as civil servants.
Hordes of top civil servants also burnt hundreds of litres of government fuel travelling from all parts of the country and splurged thousands of dollars on hotel accommodation and food just to attend the president's birthday party.
Zimbabwe is mired in a crisis that of late has manifested itself in government's failure to pay civil servants on time — with 2016 bonuses yet to be paid and an ongoing crippling strike by doctors.
The government has shown little interest in the job action by the medics almost a month after they abandoned patients, protesting against poor pay and horrible living conditions.
However, the most recent crisis where Mugabe could have done well to channel the over $2 million he blew up with his supporters in Matobo, to the floods in Tsholotsho that happened over a week ago.
At least 855 people were airlifted to Sipepa Clinic in Tsholotsho where they are currently living in unbearable conditions as revealed in a report done by Matabeleland North provincial administrator Latiso Dlamini on Friday.
Among the people at the makeshift camp, 86 are chronically ill and 147 children under the age of five. At least 501 children of school going age were displaced.
Some of the challenges noted in Dlamini's report is inconsistent information (presumably from government agencies), inadequate resources, lack of suitable vehicles, allowances for those involved in the rescue operation, poor road network, impassable bridges, lack of experience in setting up camps and continuous rains.
The majority of the issues raised as challenges would not take a day to solve if Zimbabwe had a caring and responsible government.
Mugabe should have by now declared Tsholotsho a national disaster to make it possible for the government to marshal resources to address issues such as the relocation of the affected villagers and taking care of their immediate needs such as healthcare and food.
Instead of going to Matobo to listen to bootlickers that stroke his ego for a living, Mugabe should have flown to Sipepa Clinic to reassure the flood victims that the government has not deserted them. But he did not even say a word about the flood victims yesterday.
Upon realising the gravity of the damage wrought by the floods, a responsible leader would have immediately cancelled that expensive, communist-style gathering.
Yesterday's merry-making has sent a clear message that the people of Tsholotsho do not matter in the Mugabe and Zanu PF scheme of things.
Indeed, Mugabe does not care that Zimbabwe is sinking deeper and deeper into a multi-faceted crisis.
He is only interested in retaining power and enjoying life as much as he can with his family and cronies while it lasts.
Even cries from Matabeleland that it would be insensitive to quaff expensive whiskey and dance on mass graves of thousands of people brutally killed by his North Korea trained militia soon after independence could not stop the feast.