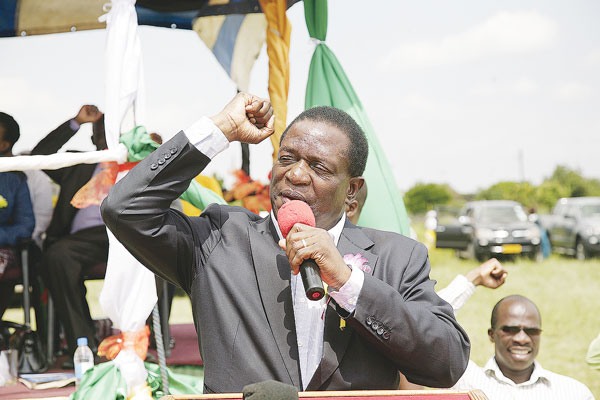 The dispute between President Emmerson Mnangagwa and his predecessor Robert Mugabe has dominated the headlines since the 94-year-old celebrated his birthday last month. The new Zanu PF leader has been measured in his response to Mugabe's complaints about alleged ill-treatment of his family since he was ousted by the military last November.
By BERNARD MPOFU
Our reporter Bernard Mpofu (BM) took advantage of a press conference held by Mnangagwa (ED) on the sidelines of the CEO Roundtable meeting in Victoria Falls last week to field questions on political developments in the country.
He also queried why the government closes a section of Chancellor Avenue between State House and Zimbabwe House overnight much to the inconvenience of motorists. Below are excerpts from the interview.
BM: Is government considering opening up the section of road along Chancellor Avenue at State House, which is closed between 6pm and 6am?
ED: I am not sure if at your age you would understand why that part of the road along Chancellor Avenue was closed.
This happened in the early 80s when some people driving along that road between State House and Zimbabwe House fired rockets onto Zimbabwe House.
So we didn't want that possibility of people using proximity to Zimbabwe House and cause insecurity to the occupants.
So, we closed that road between 6pm and 6am because the incident happened at night. Now I realise that such an eventuality is now very remote.
I have confidence that our own people will no longer do things of that nature. I think they should be able to respect government institutions and you don't force respect by putting such constraints.
It is my view that if we are all united and if all of us feel we are patriotic to our own country and if we have channels where we vent our grievances, there is no need of firing rockets at government institutions.
I think that there are channels where one can vent one's concern or complaint. I am going to make sure that barrier is removed.
After all, we have security patrolling 24 hours a day, so why put those spikes? That's part of the freedom which we want our people to enjoy.
BM: Last week you told Zanu PF youths that you were trying to establish whether or not former president Mugabe was linked to the National Patriotic Front. What have you established?
ED: Somebody asked me that and I replied to that question saying 'I think the media, yourselves if you were patriotic, you would advise me more than I would advise you because you are the ones who publish what you are publishing'.
I am, however, saying that what is being published in the media I'm not comfortable with; that is if it is not true because I have so much respect for the former president.
I can't just take anything published and say he has done it. We will look into it and find out whether it is true or not because this is the media. I'm used to knowing that some of the things in the media may not be completely accurate.
BM: In relation to other media reports, it was reported that you had requested to see Mugabe after your trip to the Democratic Republic of Congo (DRC). What is your comment on this?
ED: I did not ask to meet him. We discussed, me and the former president, and in the course of our discussion, because previously I had indicated to him that me and the current leadership we would be going to his house to pay our respects on his birthday.
But I was not able to do so because on that particular day I was in Bulawayo at the launch of the railway coaches.
So, I said I had promised to come on that day with some of my leadership, but we were not able to do so because I was away.
But then I was now going to the DRC and when we come back from the DRC, we can arrange when we will be able to meet.
BM: Did you meet?
ED: If I had met with him, you would be the first to know that I have met him.
So, when I came from the DRC, the former president went to South Africa for some five to six days, I think. He is back now.
BM: Mr President, we understand that you will travel to China next month and this visit comes at a time when diplomatic relations between Harare and most Western governments have been thawing.
Are we seeing a shift in the country's foreign policy considering that your predecessor focused on the Look East policy?
ED: On my inauguration I said I have a duty to make courtesy calls on my peers in Sadc and I have done that.
Secondly, I must do it to AU, I have done that. Thirdly, outside Africa, the first country I will visit is China. What does that tell you? Have I answered you?
BM: Partly.
BM: Some of your critics, who include former Finance minister Tendai Biti, have said government has no legal instruments to prosecute companies and individuals who failed to return what you called externalised funds. What is your comment on this?
ED: Fortunately, I'm also an advocate. Biti should be very happy, he is an advocate.
If these people are being wrongly dealt with, they must rush to Biti so that he can defend them in court.
That is business for him, but I'm going ahead [to prosecute those] who have taken out assets from Zimbabwe, which belong to the people, which they have taken out, which under our laws if you export you are required under CD1 forms to remit the proceeds of exports of goods, which are Zimbabwean.
So, if Biti says no, there is no requirement, let him defend them. He must feel very good about that.