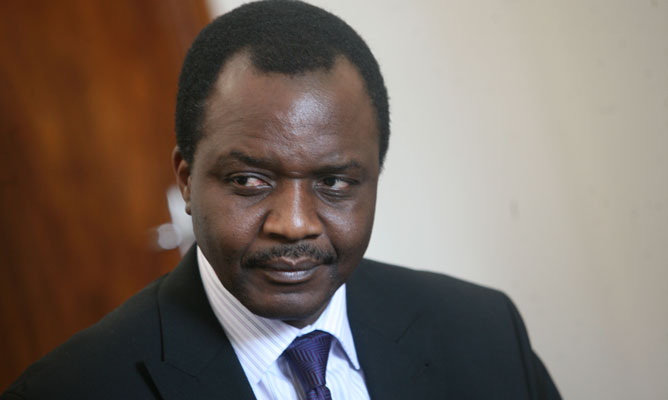 A number of serving MDC-T MPs were on the verge of losing their seats yesterday in primary elections with the party's vice-president Elias Mudzuri (pictured) said to be one of the casualties.
by Phyllis Mbanje/Simbarashe Sithole
Sitting legislators such as James Maridadi (Mabvuku/Tafara), Fani Munengami (Glen View North) and Simon Chidhakwa (Zengeza West) were said to be in danger of losing in their bid to run for another term in elections expected between mid-July and August.
MDC-T Harare chairperson Eric Murai said things were not looking good for most of the sitting MPs, but refused to confirm names of the losing candidates.
"Most of the sitting MPs did not make it and fell by the wayside. The remaining are under siege and things are not looking well for them," he said.
Maridadi referred all questions to Harvest house, the MDC-T headquarters.
"When you have spoken to those at Harvest House I will comment then," he said.
Although the primaries went on without any major incident in Kuwadzana East, there were serious clashes involving youth leader Shakespeare Mukoyi and party deputy treasurer-general Chalton Hwende.
"We are having challenges in Kuwadzana and I feel people are plotting my downfall and yet my past record proves my worth," Mukoyi said.
"I have been in Kuwadzana since 1986 and I rose through the ladder from sheer hard work and love for my party."
Mukoyi accused Hwende of trying to bulldoze his way into a constituency that he does not belong to.
"He is from Mashonaland West, but I have been here with the vanguard making sure the party's image is maintained and restored to its former glory," he said.
"I respect the leadership structure and if they do not want me to stand, they should come out in the open and say so."
Mukoyi claimed that a senior MDC-T official had approached him saying if he stepped down from the race, he would be rewarded.
"I have a recording of the conversation and I am yet to hand it over to the chairperson," he said.
Hwende refused to comment on the fallout, but said the elections had been postponed.
MDC-T national chairman Morgen Komichi maintained that the elections were progressing well and that the "small" disturbances were nothing unusual.