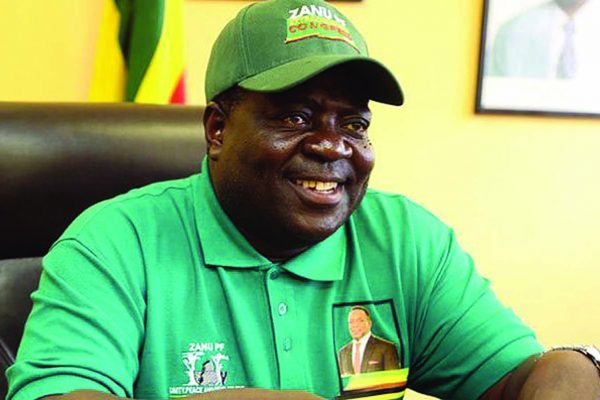 SERVING and retired soldiers were heavily involved in Zanu PF's chaotic primary elections last month and some of the candidates that will represent the party in the July 30 harmonised elections were imposed by the military, petitions by losing contestants have revealed.
BY CHARLES LAITON
Zanu PF has been at pains trying to dismiss reports that the security forces had taken control of the ruling party following a coup against its long-time leader Robert Mugabe in November last year.
Former Higher and Tertiary Education minister Jonathan Moyo has consistently claimed that
5 000 soldiers were deployed, especially in rural areas, to campaign for Zanu PF and its presidential candidate Emmerson Mnangagwa soon after the coup.
Petitions by losing candidates obtained by The Standard, submitted to the Zanu PF commissariat led by Engelbert Rugeje, who was until Mugabe's ouster a senior army general, reveal the military's deep involvement in the ruling party's internal affairs.
One constituency where the army is said to have played a key role in the primary elections is Tsholotsho North. Moyo was the constituency's MP before he was fired from Zanu PF and forced to flee into exile in November last year.
Sibangumuzi Khumalo, who won the ticket to represent Zanu PF in the forthcoming polls, is a retired major general in the national army, who is now accused by one of his rivals, Believe Gaule,of abusing government resources and roping in the army to win the primary elections.
"The rival candidate was assisted in these shenanigans by members of his campaign team like Alice Dube, Josephine Moyo, Ngqabutho Ngwenya and retired army officers who are on the army payroll, namely: retired colonels Dlamini, Ndlovu and Makhwelo," reads part of Gaule's petition obtained from the Zanu PF commissariat.
"The same army personnel went about threatening people to vote for Khumalo.
"We kindly request for a thorough investigation of this affront, especially in ward seven.
"In ward eight, the party chairman, who was also an interested council candidate, told the people they 'were given Khumalo from the top and as such there is to be no disagreement with the order'."
He claimed that Khumalo's driver, who is allegedly a serving soldier, was a polling agent in Mbiriya and "was also floating in all the polling stations, seemingly directing clandestine operations".
Gaule claimed police officers were polling agents throughout the constituency.
In the petition dated May 2, 2018, the former Tsholotsho senator — once fired from Zanu PF for allegedly pushing for Mnangagwa to succeed Mugabe — complained of many other alleged irregularities.
He refused to comment on the alleged rigging, saying it was an internal matter that was addressed to Rugeje.
Gaule is viewed as a strong Mnangagwa ally in Matabeleland North amid claims he was at the forefront of the Tsholotsho Declaration that allegedly sought to push Mugabe out of power in 2005.
"The competing candidate (Khumalo) was rounding up his supporters using government vehicles," Gaule's petition reads.
"These government trucks had posters of the rival candidate. The trucks were carrying only known supporters of the rival candidate and were not accessible to other Zanu PF members.
"We question the partisan approach of these serving officers who are supposed to be impartial and neutral on why they were campaigning vigorously for an individual."
Rugeje was not available for comment, but Zanu PF has consistently denied claims that soldiers have taken over its commissariat department.
During the 2008 presidential election run-off between Mugabe and late MDC-T leader Morgan Tsvangirai — considered to be the most violent since the era of the Gukurahudi massacres in Matabeleland and the Midlands — the army was accused of deploying soldiers to lead Zanu PF's brutal campaign.
One of the reasons army commanders gave for Mugabe's ouster was that Zanu PF needed to be rescued from certain defeat during the forthcoming polls.
Finance deputy minister Terrence Mukupe came under fire recently when he was caught on video claiming that the army would not let MDC Alliance presidential candidate Nelson Chamisa rule if he won the elections.
A few days after Mukupe's controversial statement, Masvingo Provincial Affairs minister Josaya Hungwe was quoted by a regional paper saying Mnangagwa would shoot his way into power if he was rejected by voters.
While the government distanced itself from Mukupe's statements, it has remained silent on Hungwe's utterances.
During the Mugabe era, securocrats described the presidency as a straitjacket, saying they would not allow anyone without liberation struggle credentials to take over from the long-time ruler.
The statements have not been retracted despite calls for the army to do so ahead of the July 30 elections.