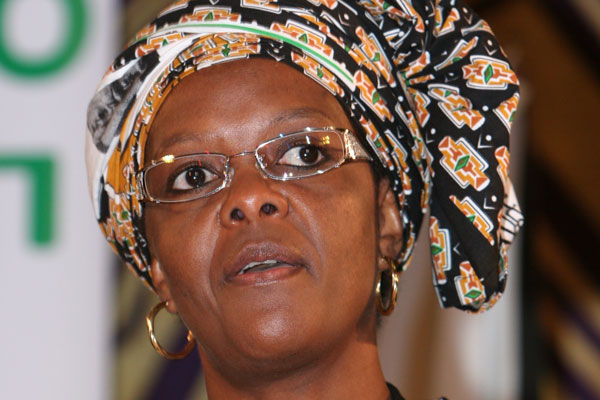 MDC Alliance presidential candidate Nelson Chamisa has poured cold water over claims that the opposition coalition is offering former first lady Grace Mugabe a senior position as it tries to lure Zanu PF supporters disillusioned by last year's coup.
By Xolisani Ncube and Everson Mushava
Chamisa told a campaign rally in Masvingo's Mwenezi district yesterday that it was unthinkable for Grace to be his deputy in the alliance as claimed by one of the National Patriotic Front (NPF) factions.
Grace was last week singled out as one of the reasons the NPF — a party linked to former president Robert Mugabe — was splitting as she was allegedly pushing for its interim leader Ambrose Mutinhiri's ouster.
According to Mutinhir's faction, Grace wanted to take over the leadership of the NPF before the party joined the MDC Alliance.
However, Chamisa told hundreds of his supporters that Mugabe's wife would never deputise him.
"Whoever wants to join us is welcome, our bus doesn't get full but there is no way one can join a church and become a deacon the same day," he said.
MDC Alliance spokesperson Welshman Ncube told the same rally that the coalition did not want to be associated with Mugabe's rule.
"We do not know the extent to which Robert Mugabe is or is not behind the NPF," he said. "We read in the press that he might be the godfather or the motivator.
"We have no desire whatsoever to be associated with the terrible rule of Robert Mugabe."
NPF spokesperson Jealousy Mawarire told The Standard that claims that Grace wanted to lead the NPF were false as she was not a party member.
"It is quite unfair, therefore, that those who have been relieved of their duties because of their gross incompetence to try to hide behind a blatant lie that Dr Mugabe wants to come and lead NPF," he said in an interview.
"We have to confront the situation as it is, the issue is not about Dr Mugabe, the issue is about the alliance and the need for the party to form a coalition as provided for in the transitional clauses in the constitution."
Chamisa and Ncube's remarks came as details emerged on what led to the NPF split with former Zanu PF commissar Saviour Kasukuwere's name featuring prominently.
Kasukuwere is accused of trying to use Mutinhiri to wrestle control of NPF with a view to running for president in 2023.
Plans to officially launch the NPF by Mutinhiri's faction yesterday in Harare flopped amid reports that the event would now be held today where the expulsion of chairperson Eunice Sandi Moyo and spokesperson Jealousy Mawarire is set to be announced.
Sandi Moyo and Mawarire on Friday announced that Mutinhiri had been fired from his leadership role for allegedly failing to give the party direction.
According to NPF insiders, trouble started brewing in the NPF last week when a delegation went to South Africa where talks were allegedly held with the MDC-T.
There were allegations that the delegation that went to South Africa had agreed to replace Mutinhiri with Grace and also to rope in the former first lady's nephew Patrick Zhuwao into the executive.
The NPF faction linked to Kasukuwere and led by Mutinhiri is said to be against joining the MDC Alliance.
A "tell all note" written by former Higher and Tertiary Education minister Jonathan Moyo, who has been linked to the NPF project, shows that some members are now disillusioned.
Moyo, in the note sent to NPF leaders that were reportedly seeking advice on how to handle the deepening problems in the party, urged a strong alliance with opposition leaders such as Chamisa, Dumiso Dabengwa and Joice Mujuru.
He said Mugabe could also play a critical role in dislodging Zanu PF in the July 30 polls.
"I hope and pray that none of them will squander the opportunity to the detriment of the people and posterity," he wrote. "I had hoped that NPF would be a catalyst or midwife for this revolution.
"I am sad that treachery and unbridled ambition have combined to conspire against this possibility. But still my hope and belief are that the people shall prevail." Moyo, who was forced into exile during the coup last year, has been using his Twitter account to show support for Chamisa's candidature and to attack Mnangagwa.