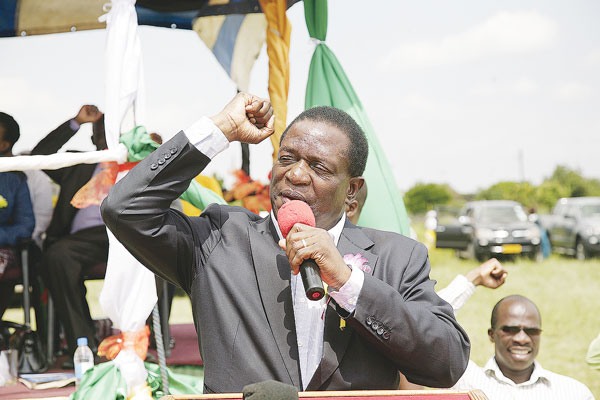 President Emmerson Mnangagwa will have to demonstrate that he does not tolerate corruption by appointing a Cabinet that does not feature people with soiled reputations, a senior academic has said.
BY RICHARD CHIDZA
Mnangagwa is expected to announce his new government soon after the Constitutional Court last Friday confirmed his victory following a petition by MDC Alliance leader Nelson Chamisa.
University of Zimbabwe political science lecturer Eldred Masunungure, the outgoing Cabinet did not inspire confidence and Mnangagwa has to make drastic changes if he wants his five year-term to be a success.
"Mnangagwa has to start with the problems bedevilling the country," he said.
"Corruption at the very top so anyone associated with graft must just stay out. If we go to the Cabinet and employ an elimination process, no one will stand.
"The president needs to show he is serious about tackling corruption. This cannot be done through creating off-shoots like he did recently.
"He must strengthen the Zimbabwe Anti-Corruption Commission.
"Give it autonomy, it is a critical political resource, but creating parallel structures suggests he wants to control the fight against corruption which is wrong."
Former president Robert Mugabe was toppled in a coup in November last year after the military complained about widespread corruption, which it claimed had become a threat to national security.
However, Mnangagwa retained most of the Zanu PF officials that dominated Mugabe's Cabinet after pushing out the veteran politician's loyalists that were instrumental in the new ruling party leader's brief expulsion.
Masungure said the president needed to appoint a respected Finance minister to steer the economy out of the doldrums.
"The Finance ministry is key and he needs someone with international reputation as well as credibility," he said.
"Maybe he can bring in (former Cabinet minister) Nkosana Moyo. He is not Zanu PF, may never wants to be, but is an astute administrator. Approach him."
Sithembile Mpofu, a political analyst, said Mnangagwa might need to look beyond Zanu PF for talent if he wants a winning Cabinet.
"Despite our aversion to constitutional amendments, there will be a need to change the constitution with regards the fact that only five Cabinet positions may be given to non-parliamentarians," she said.
"There is a need to give more positions to competent technocrats with proven track records in a given field and these individuals are unlikely to be politicians.
"While awaiting such an amendment, the president must appoint competent individuals to strategic positions where constitutional restrictions don't exist."
Harare-based political analyst Maxwell Saungweme said Mnangagwa's performance in the next five years would be anchored on his choice of Cabinet ministers.
"He needs a bi-partisan Cabinet, inclusive and gender-balanced Cabinet with talent from the opposition as well," he said.
"He also needs to look at other talents not in politics but in business, civil society in Zimbabwe and abroad and bring their skills into Cabinet.
Ricky Mukonza, a governance expert, said the appointments should be based on merit.
"The president has an opportunity to appoint capable Zimbabweans across the political divide, assuming that those from other parties are open to the idea," he said. "He can also bring in some from outside of the elected ones as stipulated in the constitution."
Meanwhile, the government yesterday said it expected most Sadc countries to be represented at the highest level at Mnangagwa's inauguration.
The inauguration is set for the National Sports Stadium in Harare.