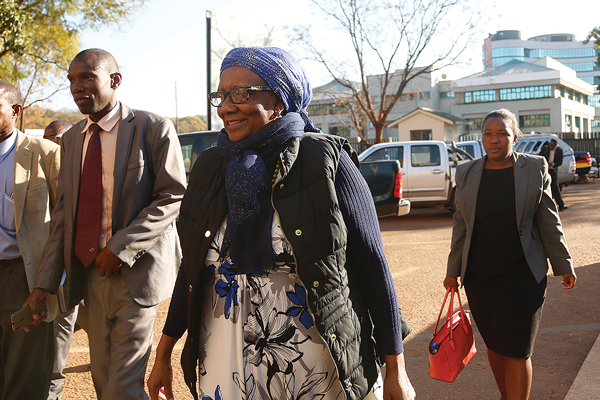 Editorial Comment
The arrest of Tourism minister Prisca Mupfumira has generated a lot of interest with some commentators aligned to the government claiming it is a sign that President Emmerson Mnangagwa's anti-corruption drive has finally taken off.
Mupfumira, who is facing charges of criminal abuse of office during her tenure as Public Service, Labour and Social Welfare minister between 2014 and 2017, was denied bail yesterday by a Harare magistrate.
She is accused of facilitating the siphoning of US$95,6 million from the National Social Security Authority (NSSA).
The allegations of corruption against Mupfumira are not new.
During the last days of former president Robert Mugabe's era, the minister was fired amid allegations that she had used money from NSSA to prop a Zanu PF faction linked to Mnangagwa at the time.
After Mnangagwa took over from Mugabe following a military coup in 2017, she was brought back into government.
There were suspicions that she was being rewarded for supporting Mnangagwa at a time when the then vice-president was under attack from a rival faction linked to former first lady Grace Mugabe, which was known as G40.
However, there were indications last month that Mupfumira had fallen out of favour with the system after she was included in a list of people accused of corruption by the Zanu PF youth league.
Some believe the list was a product of Mnangagwa's inner circle and this raised concerns that the fight against corruption was being used to settle internal ruling party disputes.
It is in this light that some Zimbabweans are sceptical about the government's fight against corruption.
The Zimbabwe Anti-Corruption Commission (ZACC) recently said it had received reports of suspected corruption in the implementation of the controversial command agriculture programme.
A number of people that have close links to the president and the military have been linked to the abuse of funds in several reports, but no one has been charged by the anti-graft body.
There are many other cases of suspected corruption by powerful people, but there has been no movement to bring them to book since Mnangagwa came to power.
Other cases that have gone to court have collapsed because of shoddy investigations, which calls into question the government's commitment to fight corruption.
Only a few people that have fallen out of favour with the system have been prosecuted.
Mupfumira's case will, therefore, serve as a test to both the judicial system and the government's resolve to fight corruption.
ZACC also has to prove that it is not an instrument to fight factional wars by following up the minister's arrest with the capture of corruption kingpins that are known to be close to the government.