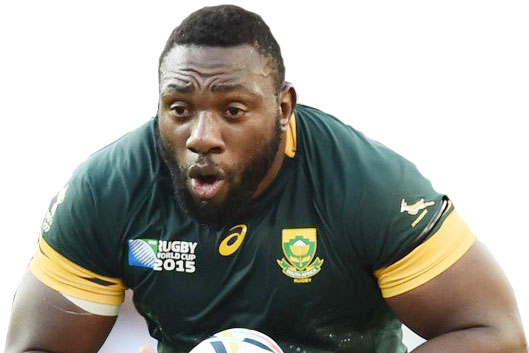 BY DANIEL NHAKANISO
HE might now be regarded as one of the finest rugby players of his generation after enjoying a successful career in South Africa, but Zimbabwe-born Springboks legend Tendai "Beast" Mtawarira's rugby career could have ended prematurely after he was diagnosed with serious a heart condition a decade ago.
The now retired former Springboks prop has for the first time opened up about the emotional experience of overcoming the serious heart condition, which was detected during the 2010 Super Rugby season.
Speaking during a zoom interview with South African historian and author Dave Allen, Mtawarira, who is affectionately known around the world as Beast revealed how the heart condition, which almost derailed his rugby career, was also a test on his faith and belief in the process.
"It started in 2010, during the Super Rugby season. It was a normal day; I had lunch with the boys and a cup of coffee. The next thing I felt my heart beating so fast. I called the [team] doctor and they rushed me to the cardiologist. He figured out I had heart arrhythmia. When you hear you have some kind of heart condition, you start fearing for your career. That was the biggest shock. The cardiologist said: 'This is not life-threatening'."
The condition has a direct effect on the electric impulses that control the heartbeat, disrupting the normal rhythm to beat either faster or slower. If left untreated, arrhythmia can lead to life-threatening complications such as stroke, heart failure, or sudden cardiac arrest.
"He [cardiologist] said it won't stop me from playing, but it is ongoing and will slow me down. What they did when my heart went out of sync was to rush me to the emergency room. They used defibrillators. They knocked me out and shocked me back to life. Then my heart was back in sync," he said.
A committed Christian, Mtawarira said he was able to draw inspiration from his faith after being given the all-clear to continue with his professional rugby career despite the heart problem.
"It was a challenge and my faith came into play. I am a very strong Christian and faith has always been my foundation. I played with the condition for about six months before I went to Cape Town to do a process called ablation," he said.
"They told me I could not do any sporting activities for two months. It was off-season, so I was able to recover and come back and play Super Rugby. However, it didn't go away. It came back again. I had to go for another ablation, sit out for another couple of months."
But in 2012, Mtawarira was forced to go for another ablation after experiencing a similar reaction the night before a Test against Ireland in Dublin.
"I remember breaking down and crying in front of our team manager Charles Wessels. I had to leave camp and was put on the next flight out and went for another ablation.
"It was pretty tough, but I remained faithful and after that third incident it never came back again. I was in the best shape ever, played some of my best rugby and was able to win a World Cup. It is a testimony of being faithful," he said.
After the setbacks, the now 34-year-old Mtawarira would go on to become the first-ever black Springbok to reach 100 Test matches.
He famously bowed out of international rugby after winning the World Cup in Japan in November last year.
During the emphatic 32-12 victory over England in the global showpiece's final in Yokohama, Mtawarira put up a dominant scrumming performance, forcing a succession of penalties from their opponents, capping off a storied career for the Springboks legend.
Mtawarira made his senior provincial debut for the Sharks in 2006 and won his first Springbok cap in 2008, setting records on the way.
"Beast became the third-most capped Springbok (behind Victor Matfield and Bryan Habana), the most-capped prop, and made the most appearances for a South African Vodacom Super Rugby team (159).
He won the World Cup (2019), Tri-Nations (2009), Rugby Championship (2019), a series against the British & Irish Lions (2009), and the Currie Cup (2008, 2010 and 2013).