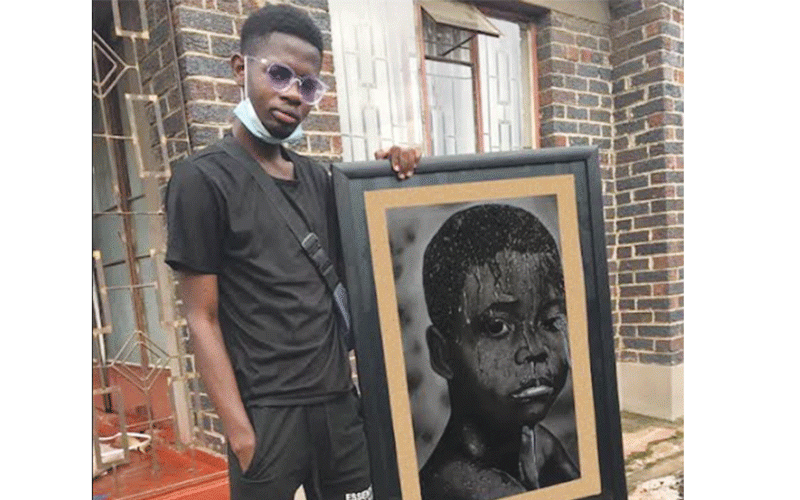 BRIAN Gumunyu, who is otherwise known as Bryan Arts, has rare visual art talent of being able to reproduce images or coming up with creative drawings using charcoal pencil.
Gumunyu, based in Harare's Glen View suburb, told NewsDay Life & Style that he has developed a household name by sketching human portraits and wildlife drawings and dreams of showcasing his artworks in local and international galleries.
Gumunyu does commissions for human portraits, pets, wildlife and anything that a person would ask him to draw for them.
"I can sketch anything that I can see. I sometimes draw whatever that comes out of my mind. Sometimes I get inspired by our social life, and can draw something, depending on what I'm thinking or what I have seen or have heard," he said.
"Sometimes I can be inspired by the feeling I have at a particular moment. I use art to express my ideas and feelings. Sometimes I can try something because somebody had done it, I'm that kind of a person who is up to any challenge. I can be inspired by other artists. I told myself that if someone can do a thing, I can do it too. So, I really challenge myself most of the times."
Gumunyu said he is developing skills to market his artworks both direct and online to reach out to a wider market.
"Doing both direct and online marketing is actually the best because it helps an artist grow rapidly and with online marketing you meet a lot of audiences," he said.
Gumunyu also believes that consistency and patience should guide any artist who wishes to achieve more in life.
"There's a surprise that people should actually wait to hear like 'Bryan has won a certain big award in art'. I aim to be a big and famous artist," he laughed.
He added: "All I can tell others out there, not necessarily artists only, is whatever you do, you should be confident enough. You should believe in yourself. Tell yourself, 'I can do it. I'm the best! I'm "dangerous". Such words will help you grow and aim higher."
Related Topics