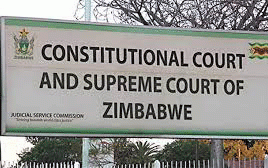 The Constitutional Court (ConCourt) will hear the much-hyped Makaha mining wrangle where a Mudzi-based gold mining company is seeking to overturn a recent Supreme Court ruling.
Milmath Security Private Limited represented by its director Mathias Madziwanzira argued that the judgement favoured the respondent, businessman Prosper Machekera as the owner of Radnor 58.
In its chamber application for leave to appeal filed at the ConCourt, Milmath Security Private Limited represented by Madziwanzira said the Supreme Court judgment violated the right to a fair hearing, among other reasons.
"A court is obliged to give reasons for its judgment to inform the parties on its reasons for the decision.
"A failure to give reasons is an irregularity, which has the effect of vitiating the proceedings," read the court papers.
"It can be shown, even in the absence of the court a quo's reasons for the judgment, that the decisions of the High Court and Supreme Court are both inconsistent with, and contrary to, the constitution of the Republic of Zimbabwe.
"They are a palpable inequity and constitute a miscarriage of justice."
In his response through his lawyer Thabani Mpofu, Machekera said the application is misplaced.
"It is common cause that the Supreme Court did not, in the judgment impugned, deal with a constitutional matter," he submitted.
"Applicant's view seems to be that the judgment of the Supreme Court impacts on certain of its constitutional rights and in its contention that raises a constitutional issue.
"The application is misplaced.
"In view of the many judgments of the Constitutional Court that have dealt with this issue, it is submitted that this misadventure must be dismissed with an order of costs."
Machekera said there was no need for the matter to be heard again after the Supreme Court judgment.
"The judgement of the Supreme Court, for better or for worse, has finally resolved the dispute between the parties," he said.
"The stamp of finality placed on that judgment by statute cannot be undone.
"That with respect is the end of the matter."
The disputed gold claims that fall under Radnor 58 are located in the gold-rich area of Makaha in Mudzi, Mashonaland East province.
The provincial mining commissioner, Mines minister Winston Chitando, permanent secretary and chief mining commissioner are cited as respondents respectively.
According to the applicant's supplementary heads of arguments, there is no reason for Machekera to deny that the matter is constitutional.
"The first respondent's heads of argument only scratch the surface and do not answer the critical question asked by the applicant, namely: how is an unconstitutional judgment of the Supreme Court challenged?" read the arguments.
"Zimbabwe is not so jurisprudentially poor as to be unable to provide a legal solution to that problem.
"Our constitution and rules are a doppelganger of the South African legal system.
"Therefore, there is every reason for Zimbabwe to take a leaf out of the South African Constitutional Court's book.
"Applicant submits that the judgement of the Supreme Court is a 'decision on a constitutional matter'. The fact that it does not refer to a provision of the constitution is immaterial."
Related Topics