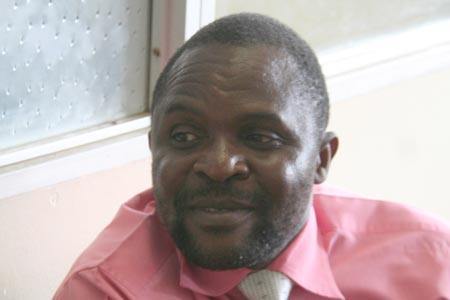 Budding writer Enias Elias Mavhene recently published his first play titled Hard Hearts and Soft Heads in Operation Save Legitimacy. REPORT BY SILENCE CHARUMBIRA
The play is based on Zimbabwe's involvement in the Democratic Republic of Congo (DRC) war towards the turn of the millennium.
Although Mavhene hinges his play on reality, the scenes in the play are all fictitious, including most of the names.
He maintains a striking balance that should leave everyone who reads or watches it with an idea of the period and occasions in question.
According to the playwright, Zimbabwe went into the war in two parts, namely the political and the military.
"The politicians were prepared for the war and they came out of it with victory and their heads up high, while the military went blindly because they had to fulfill a mission," said Mavhene.
"I have been reading about different wars and campaigns. due to my passion for writing, I just said, "why not write about my country's involvement in the DRC war".
"In my understanding, from the time the then leader of the DRC Laurent Kabila approached the Southern African Development Community [Sadc], desperate decisions were made with desperate results."
He said Uganda and Rwanda were prepared for the battle while Zimbabwe and the whole of Sadc just used military advancements to satisfy political wishes.
The play applauses President Robert Mugabe for standing by his principles of upholding sovereignty, but questions the rationality of some of his hurried decisions concerning the war. He is portrayed as a leader who does not consult but just orders his cabinet and generals as he wishes.
Gender-based segregation is also highlighted as female soldiers are relegated to mere political pawns and left out when others take to the warfront.
Mavhene suggests that the late Kabila had not yet acquired a firm grip on his nation as he had just taken over the reins, while some Sadc leaders were rewarded by acquiring mines as payment for the help rendered.
Writer served zim's army for twenty years
Mavhene is a former soldier who retired from the army after 20 years of service as a buyer.
"During the DRC war, I was supporting the war and from what I saw, I imagined what events had transpired before the war," he said.
"I just created a scenario of how I thought things had happened and sent a manuscript to the ZNA Commander in 2007, but I did not get any formal response. I have so far since sent more scripts, but have not yet gotten any response. I now intend to make a film out of it, if funds permit."
Related Topics