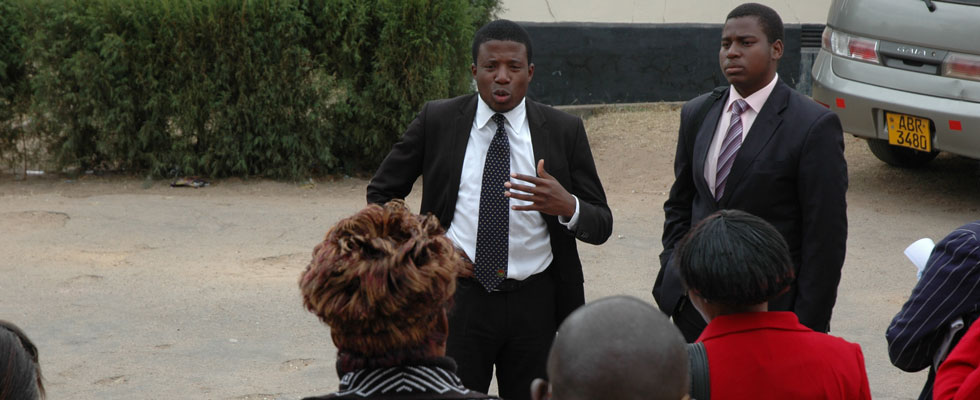 CANDIDATES from across the political divide continue to pitch their individual manifestos as the July 31 harmonised elections reach the home stretch.
REPORT BY PATRICE MAKOVA
The candidates continue to make promises, most of which appear hard to fulfil.
Acie Mutumanje Lumumba is one of the youthful leaders contesting the elections.
The 25-year-old Zimbabwe Youth Council chairperson for Harare is representing Zanu PF in the Hatfield Constituency.
He will contest MDC-T deputy secretary general and Economic Planning and Investment Promotion minister, Tapiwa Mashakada, Paul Mushonga of MDC and Tarwirei Chadambura of UMD.
Lumumba, who calls himself the miracle baby of Zanu PF, said he is not afraid of heavyweights, having won his party's primary elections in a tight contest.
He won by two votes against eight other candidates, among them a provincial Zanu PF Harare Province Secretary for Education, Last Mbizvo and Danny Masukume, an economic analyst.
However, Lumumba's name does not sound Zimbabwean and he contested the party primaries without the relevant qualifications.
He said he was a first-generation Zimbabwean having been born in Hatfield to a Zimbabwean mother and father of Congolese origin.
He was allowed to contest the Zanu PF primary elections although he has not served in the party for five consecutive years as was stipulated in the primary poll guidelines. Lumumba said after presentations were made to the Harare provincial leadership, he was given a waiver to contest.
"I am stubbornly Zanu PF and what I am is a reflection of the party in 2013. We have redefined ourselves and at least 25 youths below the age of 35 in Harare alone are contesting on a Zanu PF ticket," said Lumumba.
But asked why Zanu PF invested in 89-year-old President Robert Mugabe instead of opting for a younger and more energetic candidate, Lumumba said age was of no consequence.
"Zanu PF does not select its leaders based on age. Mugabe was selected because of his ability to get the job done. People are not going to vote for his age, but his ability and the trust they have in him," he said.
If elected, Lumumba said his priority was the basic restoration of community services and providing a platform for constituents to air their views.
He said roads, schools, street lights and community facilities in the constituency needed attention. Lumumba said Hatfield should benefit from its vicinity to the Harare International Airport by creating jobs, constructing shopping malls, hotels and industries.
The youth leader said he was inspired to join politics by the "revolutionary" path Mugabe had taken.
He said Youth Development, Indigenisation and Economic Empowerment minister, Saviour Kasukuwere mentored him for the past five years. Lumumba said Prophet Uebert Angel was his spiritual guide.
Former student leader and MDC-T national executive responsible for Mashonaland West Province, Chalton Hwende is representing his party in Chegutu West.
He faces it off with Zanu PF's Dexter Nduna, Tagwireyi Ngwenya of MDC and Ernest Mudimu, an independent.
Hwende said he wanted to see a better Chegutu and spearhead its development.
"It is time to bring an oasis of living to Chegutu West. I promise to be held liable wherever there is my signature. Over and above all, I promise to bring change to Chegutu West in line with the broad vision of the MDC-T," he said.
Hwende said his major priorities included ensuring that every home in Chegutu receives clean water supply, and facilitation of the opening up of industries.
"Unemployment in Chegutu is high and so industry has to open. I will work tirelessly to market my constituency to attract investment so that companies like David Whitehead can open and operate to full capacity. This will create jobs and opportunities for a lot of people," he said.
Hwende said road infrastructure in Chegutu needed a complete overhaul. "The roads are terrible. I will work hard with the responsible ministry to ensure that a good road infrastructure is put in place. I will also work hard for the electrification of communities that are not yet connected with electricity."
'MY ZIMPAPERS CASE WAS BLOWN OUT OF PROPORTION'
Lumumba at one time worked for Star FM radio as political anchor, but left unceremoniously.
Zimpapers announced the suspension of Lumumba and head of programmes Tichafa Matambanadzo over allegations of irregularities involving the transaction of advertising revenue.
But Lumumba down-played the case saying both himself and Star FM mutually agreed to terminate their relationship after a "business disagreement".
He said the case was blown out of proportion by the media, adding no criminal charges were ever pressed against him. "I love Star FM and I hope they also do the same," said Lumumba.
Residents will control their council revenue: Chimbiri
Henry Chimbiri is an executive member of the Professor Welshman Ncube-led MDC.
He is contesting the Budiriro seat. Chimbiri described himself as courageous having worked for the united MDC information centre where he documented information on victims of political violence and torture.
Chimbiri was arrested over 30 times since 1999 and was violently assaulted by State security agents. In 2002, he was assaulted by the suspected intelligence agents in front of schoolchildren and fellow teachers and was left for dead at Mukai High School, Highfield.
This was after he had contested the Mt. Darwin South seat in 2000. He was eventually dismissed from his teaching post for being an MDC activist while working as a civil servant under a Zanu PF government.
Chimbiri said having lived in Budiriro for over 18 years, he has first-hand experience on the challenges facing residents.
"I will overcome the challenges in Budiriro using the MDC's Actions for Devolution through participatory people-centred leadership," said Chimbiri.
He said if elected, every child would have access to affordable education through the Basic Education Assistance Module (Beam).
He said residents would control their Council revenue for quality clinics, roads and water.
"Chimbiri will encourage women, young people and investors to have an initiative in creating jobs and employment opportunities in new home industries. A new Constituency Development Committee will be the first step in the organisation of Budiriro communities towards real development," said the aspiring MP.
He is in the race for the Budiriro seat together with Costa Machingauta of MDC-T, Andrew Nkani of Zanu PF, Shepherd Manganda of UMD and Douglas Muzanenhamo of MCD.