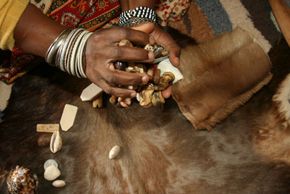 VILLAGERS in Mhundwa area in Seke communal lands have lost over 20 cattle in the past two weeks to a group of witch-hunters calling themselves tsikamutandas who are accusing them of possessing goblins before demanding payments in the form of livestock.
BY KUDZAI CHIMHANGWA AND PHYLLIS MBANJE
Their presence in the village has also caused friction in several families who are now accusing each other of being witches and wizards.
They have also caused general mistrust among the villagers. The menacing group, invited at the behest of traditional leaders, has established a make-shift base in the village where they purport to cleanse all witches and wizards.
When The Standard visited the base yesterday, it established that tsikamutandas who descended on the village last Saturday allegedly stripped-naked in front of women and children, "in order to catch goblins" sent by certain people to terrorise the villagers.
One such victim is 90-year-old Margaret Mhundwa.
She said the tsikamutandas invaded her homestead on Friday seeking to flush out goblins referred to as Zvivanda.
"They told me that my late husband had dabbled in dark occults, visiting traditional healers who had given him these goblins," said Mhundwa wiping tears from her wrinkled cheeks. "They then force-marched me [from the base] to my house and because I knew that I had nothing to hide, I opened all the doors for them and challenged them to sniff out the goblin."
With a distant look in her eyes, she described the nightmare that followed thereafter.
"The whole village gathered at my house and they were forced to sing and beat some drums. One of the tsikamutandas known as Sekuru Garwe started stripping right in front of the crowd. I was so shocked that even children were subjected to such a spectacle."
She added: "He proceeded to open one of the rooms and said the goblin was in that room. They started sprinkling salt and maize meal on the door and before long were running around the compound "chasing the goblin". They even climbed the avocado tree and ran behind the house," she said.
One of them later shouted that they had caught the goblin. They brought a black furry animal that resembled a rat and some people ran away while women with babies on their backs fell down in the chaos. Following the "exorcism", the tsikamutandas demanded that the old lady come to their base to discuss payment.
"My legs are very sore and so I cannot go there but all I know is these people are fake and my husband was a good man," said Mhundwa. "I have no doubt in my mind that they cooked up that story to just swindle me of money but as you can see, I have nothing. Life has not been that easy ever since my husband died."
Another victim of the group is headman Fabius Kandeke, who had to seek a court protection order to prevent them from coming to his house.
He was accused of killing his relatives and keeping the body of a dead child in his refrigerator.
The Standard spoke to one of his wives, Mary Kandeke, who admitted that other family members had ganged up against her and her husband. The members wanted to bring the tsikamutandas to their home, he said. "They told us that there was a body of a dead child that we kept in our refrigerator but that is a lie, there is no such thing," she said. "We are Christians and do not believe in those things."
The headman had to go and seek a peace order to bar them from conducting their ceremony at his house.
"He first went to Dema police but they said that the others had agreed so it was not possible for them to get assistance. He later went to Makoni police station and made a report. He eventually got a peace order."
Efforts to get a comment from Dema and Makoni police were fruitless as the officer-in-charge was not in his office when The Standard arrived at the station.
Meanwhile, most of the villagers are living in fear especially for those who are yet to be "visited".
They anxiously wait to be humiliated and be made spectacles before being made to part with their livestock.
VILLAGERS PAY US$5 AS CONSULTATION FEE
the villagers can also make payments in the form of goats, chickens, brand cigarettes, and premium alcohol, among other items of value. At their make-shift base yesterday, a long queue of men and women sat in the sweltering heat, patiently waiting to be attended to by "the prophet" who was in a roofless grass shack. One of the "prophets" shouted obscenities as they took a swig of lager beer, before attending to their next patient, who paid US$5 as consultation fee.