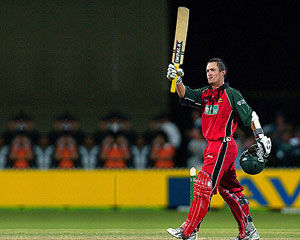 Former Zimbabwe batsman Stuart Carlisle has thrown his weight behind the establishment of a cricket Players Union.
BY MICHAEL MADYIRA
Preparations for the upcoming Pakistan tour of Zimbabwe were plunged into disarray last week as players boycotted training demanding improved match fees and salaries.
Carlisle said the formation of a players' representative body was a culmination of the cricketers' long-term efforts that Zimbabwean cricket authorities had always been quashing.
The representative body mainly comprises core players and last week presented financial demands ahead of Pakistani's month-long tour which begins on Friday.
The players are demanding US$5 000 per player for each Test match, US$3 000 for each One Day International (ODI) and US$1 500 per each T-20 match.
They also want full settlement of outstanding salaries.
"Back then, they would not expect us to have a players association where we would have independent people to sort out our issues with the board. They were worried it would be a trade union," said Carlisle, a veteran of 37 Tests and 111 ODIs for Zimbabwe.
Zimbabwe Cricket (ZC) media and communications manager, Lovemore Banda said they were yet to recognise the Players Union and had advised the players to set-up their body in conformity with the country's labour laws.
"ZC welcomes the formation of the players' reprsentative body which is one of the recommendations by the International Cricket Council taskforce on Zimbabwe. The union just has to be regularised," said Banda.
Standoffs between players and authorities have however worsened but are not unique with past eras having experienced the same predicament.
Carlisle said players had a heated clash with the then Zimbabwe Cricket Union in the run-up to the 1999 World Cup hosted by England over money issues.
"There were contractual discussions prior to the World Cup but we just focussed on the game and got into the Super Six. Andy Flower tried to sort that out for us," he said.
"They were negotiations on better packages but nothing concrete came out. I remember that other countries were getting 25% of the total revenue while we received just 2%. When we tried to protest, the board would lie to the media that players were greedy."
Some players have quit cricket in recent years over poor remuneration.
"Everything was good back then until 2003/04. It was a time when we did not know where their [Zimbabwe Cricket] money was going. We knew for a fact that there was money in their coffers and it was public knowledge they were squandering it.
"What is happening is damaging Zimbabwe's cricket. Players have tried to concentrate on the game but it is very difficult to do so under such circumstances."
Earnings from last month's ODI home series against India have been kept under wraps.
It was widely believed that ZC profited millions of dollars from television rights and stadium advertising.
Meanwhile, seamer Kyle Jarvis has pulled out of the squad for the Pakistan series after being offered a contract with English County club Lancashire.
Pakistan are expected in the country tomorrow.