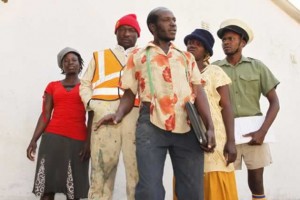 David Mubaiwa, the man who plays the role of Sabhuku Vharazipi in the hilarious drama Sabhuku Vharazipi, never knew that one day his comic acts would reach a level of transforming people's lives, especially those who are in the rural areas.
By Jairos Saunyama
Though the drama's main call was to reveal the abuse of power by traditional leaders in the rural areas, little did he know that the audience was to receive his efforts with appreciation.
"As an actor, I thought I was just unearthing the massive corruption and abuse of power by traditional leaders but the feedback was overwhelming.
"In Masvingo many people thank me for that and I even heard that most rural folks are now referring to their respective headmen as Sabhuku Vharazipi.
"People are now enlightened and they have been taught to stand their ground whenever the government sends relief aid in the form of maize to them," he said.
"I met a certain headman in my hometown of Masvingo and he wanted to beat me up because of the drama. He clearly told me that I was referring to him in the drama and that people in his ward are baying for his blood," said Mubaiwa.
Mubaiwa said the drama which many people have misrepresented as a comedy, is nothing else but an educative piece to the society.
In a vote of confidence in their work, Ziya Arts Drama Club, which produced the drama, receiving US$4 000 from Culture Fund Zimbabwe for the production of Sabhuku Vharazipi Part 2.
"I am very grateful to Culture Fund who instilled hope and confidence in us through funding our project and very soon the new DVD will be on the market.
"The fact that there is an organisation that released its money to us means that we have something good to offer in the film industry in Zimbabwe.
"As I said earlier, we are there for community development, not laughter and because of this, we were funded to produce more," he said.
However, Mubaiwa, who became a celebrity overnight thanks to piracy, is a bitter man because he has nothing to show for the project that went viral early this year.
"I am indeed bitter that I never got money on the first project and I do not know how it spilled into the streets.
"However, we are in the limelight and one might not believe that we have been in theatre for the past two decades.
"All along we have been taking theatre to schools, churches and other functions. And I can say that Sabhuku Vharazipi is the first project that made us popular.
"Everything has a beginning and I promise more fireworks in the upcoming projects," said Mubaiwa.
Mubaiwa has transformed his drama group into an arts trust.
"We are going professional; it is no longer a drama club, but an arts trust that is called Ziya Cultural Arts Trust [Zicat] that has four trustees," he revealed.
The other trustees include Kumbirai Chikonye who acts as Mai John, David Dzasungwa and Wellington Chidara, who acts the role of chairman in the drama.
Who is David Mubaiwa?
David Mubaiwa was born on October 2, 1973 in Shashe Resettlement area in Masvingo.
He did primary education at Rupiri before going to Masvingo Christian School for secondary education. Together with Chikonye they formed Ziya Cultural Theatre Club in 1993.
So far, the club has released plays such as The Voice, Idler's Corner, Streetwise and Nhamo's Troubles among other plays. But all the other plays did not go viral, until early this year when Sabhuku Vharazipi got on the streets and catapulted him to stardom.
Mubaiwa is well-known for his fake bald head, which has seen him moving with a hat to hide away from people who always nag him whenever they identify him.