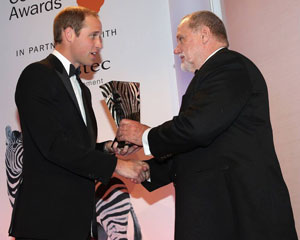 ZIMBABWEN conservationist, Clive Stockil has won a lifetime Prince William Award for Conservation for his work with Rhinos.
BY OUR STAFF
The award, which was presented by Prince William himself at the Tusk Conservation Awards held at the Royal Society in London last Thursday, comes with a £30 000 (US$47 000) grant.
Another accolade was given to Kenyan conservationist, Tom Lalampaa. Hosted by journalist Kate Silverton, the event recognises outstanding figures in African conservation.
It was attended by nature lovers from across the globe and the Prince's wife Kate Middleton, whose official title is the Duchess of Cambridge.
Prince William is the charity's royal patron since 2005 and he is largely involved in the work carried out by Tusk Trust.
Stockil has been described as Africa's greatest conservation pioneer with over 40 years in conservation work.
He is recognised more for helping create Zimbabwe's biggest private reserve in the Save Valley, which is now home to one of the biggest rhino populations in Africa.
Tusk Conservation Trust hailed Stockil for his passion in conservation.
"We are honoured that Clive Stockil, long-time champion of wildlife and communities in the Greater Limpopo Transfrontier Conservation Area of Zimbabwe, South Africa and Mozambique, including Gonarezhou National Park and the Save Valley Conservancy, is a shortlisted nominee for these awards," said the Trust.
This is not the first time that Stockil has been honoured for his efforts. In 2011, he was awarded one of France's highest honours for his outstanding contribution to conservation efforts in the Save Valley.
He was presented with the Order of Merit from France's ambassador to Zimbabwe, Francois Ponge, on behalf of President Nikolas Sarkozy. The order was created in 1963 by General de Gaulle. CNN is expected broadcast a documentary on conservation featuring Zimbabwe and Clive Stockil today.
Related Topics