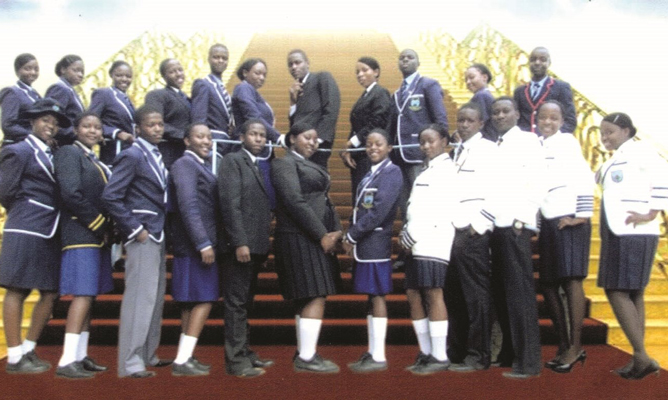 WADDILOVE High School seems to have realised its quest to be one of the leading musical groups in Methodist Church in Zimbabwe after the school's choir — Soldiers of Heaven — released a 10-track album titled Ishe Ndinzweiwo Nokufara.
By Our Staff
All the songs on the album are Methodist Church in Zimbabwe hymns except for the last track Mwari Vanopa, which was composed by co-producer and choir leader Patrick Nyahwo.
Produced by Forward Mazuruse and recorded at Revival Studios, the album is the second from the Marondera-based school. The first project, Mbiri Kuna Mwari was released in 2010.
The album opens up with the title track, Ishe Ndinzweiwo Nokufara which is a popular hymn in the Methodist Church in Zimbabwe. Other tracks include Ngatimukudze Mwari, Pane Sipiti, Mwari Muri Zuva Redu, Swedera Mweya, Chokwadi Zita RaJesu, Mufudzi Ndiye Jehovah, Ndiani Pane Zamba and Tsitsi Hedzi, which are all Methodist Church in Zimbabwe hymns.
Twenty-three members make up the Soldiers of Heaven, comprising 20 A' Level students and three juniors. Kuda Chirairo, Yolanda Setete, Ruvarashe Mugwidi, Godknows Seremani and Ashley Mapfumo are the leading vocalists.
Nyahwo said the album, which was launched last month, is getting fair airplay on national radio stations.
"The album has managed to earn the respect of listeners on national radio stations," he said. "We have started working on the DVD of the album, which will be released early next year."
Nyahwo said it was an uphill task to raise funds for recording the album, but that was made possible by the support they got from the school, church, individuals and the corporate world.
"We appreciate the spirited and unwavering support we got from the Methodist Church in Zimbabwe, Waddilove High School principal Reverend E Vhazhure and his team, as well as the school development committee," Nyahwo said.
Nyahwo is supported by Sydney Sithole and Tracy Nhema, who are teachers at the school, as well as Shylet Brown, who is the matron.
Mazuruse also played the lead guitar and keyboards, while Paradzayi Zimbizi, Clemence Takundwa and Lyton "Sub Woofer" Milaso played the rhythm guitar, drums and bass guitar respectively.