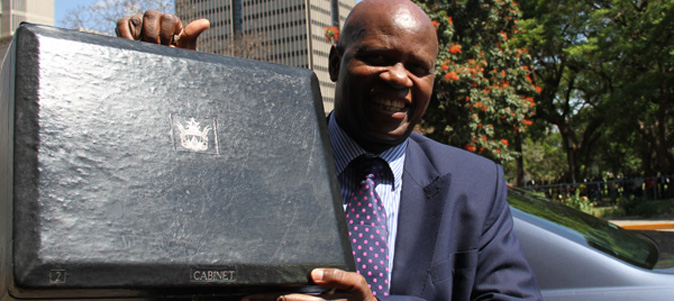 Indigenisation minister, Patrick Zhuwao yesterday attacked Finance minister Patrick Chinamasa, accusing him of misleading Zimbabweans on the status of foreign-owned banks' compliance with the indigenisation law.
BY BLESSED MHLANGA
Zhuwao's outburst followed a statement by Chinamasa reiterating the Reserve Bank of Zimbabwe (RBZ) position that all banks had complied with the controversial law following the March 31 deadline set by government.
"It is unfortunate that Chinamasa has chosen to engage in the media on an issue that ought to have been clarified outside the glare of the public given the sensitivities that may adversely affect depositors and shareholders in the financial services sector," he said in a statement.
Zhuwao claimed only BancABC and Ecobank satisfied the specific requirements of the legislation.
He accused RBZ governor John Mangudya and Chinamasa of trying to shield non-compliant banks from complying with the law.
"The RBZ cannot shield their [banks] illegality by submitting that the letter that was written by the governor constitutes compliance with the laws of the land," Zhuwao charged.
" It is unbelievable and astounding that a national institution can be used as an accomplice to subvert the principle of indigenisation which is enshrined in the Constitution of Zimbabwe."
He warned that if the foreign-owned banks did not comply with the law, they risked depositors money as they would be shut down.
"These foreign-owned financial institutions cannot, in perpetuity, remain with only 20-31% indigenous shareholding. Such a situation is in clear violation of the law," Zhuwao said.
"It is, therefore, my view that the statement by Chinamasa is incorrect and it does not outline the correct compliance position of the foreign-owned financial institutions as is required by law."
He added: "Such a position puts at risk the savings and investments of depositors and shareholders in an all-ready compromised financial services sector."
Mangudya in a letter dated March 30 addressed to the Zimbabwe Investment Authority and copied to Zhuwao, said the six foreign-owned banks operating in Zimbabwe had complied with the law.
Zhuwao said as a first-year student of law, he could read that Mangudya and Chinamasa were acting outside the law.
"I have no idea why he [Chinamasa] does that. This is a man who is a lawyer who was once an attorney general and is lying and misleading the banks. He took an oath to protect the Constitution," he claimed.
Attempts to get a comment from Chinamasa were fruitless as his number continually directed calls to voice mail. Mangudya was said to be outside the country.
Chinamasa and Mangudya last December also bore Zhuwao's brunt after they sought to take on board foreign investors concerns about the toxic law.