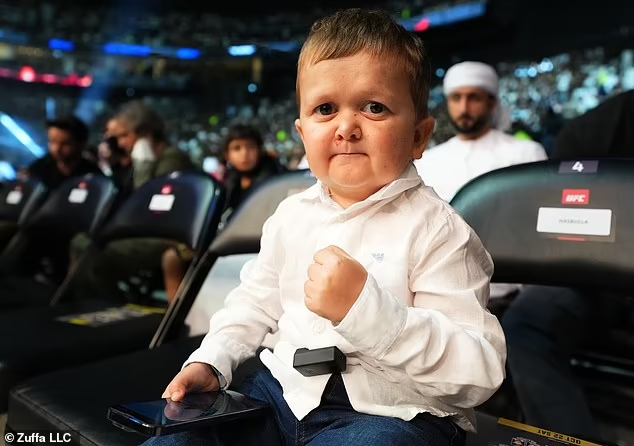 Social media star Hasbulla Magomedov has apologised after he and several of his friends were cited by police for dangerous driving in his hometown.
The diminutive Russian influencer was filmed this past weekend on the streets of Makhachkala - the capital of Russia's Republic of Dagestan - going for a wild ride amid wedding celebrations.
Though Hasbulla himself was not driving, he was seen standing inside one car as multiple drivers blocked parts of the highway before performing doughnuts, burnouts and racing through traffic.
Dagestan's Ministry of Internal Affairs yesterday released a video of the offenders, including the 3ft 3ins-tall Hasbulla, lined up in a local police station explaining their actions.
Hasbulla later posted an update on social media to acknowledge the incident, but stressed he was not driving any of the cars.
'We decided to hype it up a bit... this will not happen again, we apologise. We played around a bit and had to answer for it,' he said.
'It wasn't my car and I wasn't behind the wheel.'
Dagestan's Ministry of Internal Affairs released a statement explaining the situation and noting the scale of the celebrations which resulted in Hasbulla's trip to the police station.
'Unbridled wedding fun, Dagestan-style, is famous far beyond the republic's borders,' it read.
'In the absence of other forms of entertainment, this primitive option remains extremely popular - blocking the roads, burning rubber and smashing cars into one another, which in reality have nothing to do whatsoever with wedding celebrations.
'All those who participated in the 'wedding emotions', as they called it, were taken to the police and received citations for violations.
'The number of people involved in this is notable - some film studios can't claim to have so many operators.'
Hasbulla, 20, sparked his viral online career in 2020 when he began sharing videos of his escapades in his native Dagestan.
He suffers from Growth Hormone deficiency, or 'Dwarfism' - a genetic disorder that occurs when there is insufficient amounts of growth hormone in the body - and stands just 3 feet 3 inches tall.
His early videos typically showed the child-sized influencer performing extreme activities, such as driving around in his friend's lap or engaging in fights with those larger than himself while ranting in an instantly recognisable high-pitched voice.
He has since amassed more than 9 million followers on his Instagram account and has become a bonafide Internet sensation.
In October last year Hasbulla, who is friends with a series of elite mixed martial artists hailing from Dagestan including former UFC lightweight champion Khabib Nurmagomedov and current UFC lightweight champion Islam Makhachev, announced that he had signed a promotional contract with the UFC.
He is said to enjoy a good relationship with UFC president Dana White and is tasked with elevating the UFC brand via his astounding social media reach.
The people of Dagestan are renowned for their prowess in combat sports, particularly freestyle wrestling, sambo and mixed martial arts, and Hasbulla has appeared at numerous UFC events in recent months - even appearing in the cage after Makhachev's stunning title win over former champion Charles Oliviera at UFC 280 in October.
The influencer then courted criticism in March after he shared a video online in which he is seen pulling his cat by the ear.
He was hammered by animal rights supporters who claimed he was abusing the animal, but Hasbulla insisted he had done nothing wrong, declaring he was disciplining the cat for bad behaviour and did not act too aggressively.
'Those brothers who think that I was beating the cat, pulled the ear, this and that... I pulled the ear gently,' he said in a video released on social media.
'I know that people are waiting for the moment, if I write something wrong, to just attack me like this.
'Like, ''you do this, you do that''. She was misbehaving and I just pulled the ear and that's it.
'I love my cat more than you. If I didn't love the cat, I wouldn't have it at home. My most lovely animal is a cat.
'And when she disobeyed, I scolded her a little. And you are attacking me for nothing.'
Related Topics