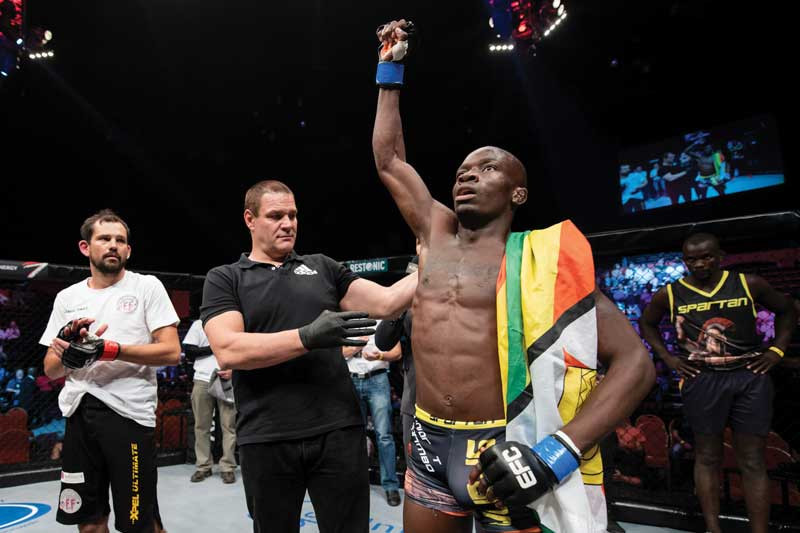 South Africa-based Zimbabwean Mixed Martial Arts (MMA) star Themba Gorimbo wants to use the story of his remarkable rise from poverty to the brink of making his debut in the Ultimate Fighting Championship (UFC) to inspire the next generation of fighters on the continent.
Gorimbo recently has edged closer towards his dream of becoming the first UFC champion from Africa after he was awarded a contract in the US-based promotion company's welterweight division.
The UFC is an American mixed martial arts promotion company based in Las Vegas, Nevada and is arguably the largest MMA promotion company in the world.
It has grown into a global multi-billion-dollar enterprise.
Gorimbo has competed in the South Africa-based Extreme Fighting Championship (EFC) and won the welterweight championship belt back in 2019.
The 31-year-old fighter becomes only the second Zimbabwean fighter to be signed up by the Las Vegas-based promotion company after New Zealand-based Mike Mathetha became the country's UFC trailblazer last year.
Mathetha plies his trade via New Zealand, where he trains with the likes of UFC middleweight champion, Israel Adesanya, thus Gorimbo aims to become the first Zimbabwean and African UFC champion fighting out of Africa with the goal of inspiring millions of Africans who are not of the belief that they can chase their dreams.
"The people I do it for are those people who come from where I come from, or at least a similar background," said Gorimbo in an interview with IOL Sport.
"If you are black (I am not being racist), poor, orphaned and someone with no hope, well then I want my success to speak to and encourage you."
Born in Bikita, Masvingo, Gorimbo became an orphan after his mother died when he was nine, and his father died when he was 13.
He left Zimbabwe in 2008 for neighbouring South Africa after a life of mining diamonds in Marange as a teenager.
After overcoming several obstacles, including being homeless when he arrived in South Africa, he rose to become the best in the welterweight division on the continent.
Gorimbo, who was crowned Zimbabwe's Sportsperson of the Year two years ago, hopes to use his story to inspire others on the big stage, especially those who can relate with his rise from very humble beginnings.
"I do hope I can inspire all races, that is the truth. But at the end of the day, I need to inspire those who can relate to me. It's easy to be inspired by someone you can relate to. My success will motivate other black athletes more as I will be more relatable to them, because we come from the same situation and background. They will see this guy, a black athlete who was an orphan, who was poor and who had no hope, and they will say to themselves, 'hey, if this guy can do it, then I can too!'"
"A black athlete who comes from nothing won't easily be inspired by someone who has it all, or by someone whose father has a company that sells trucks, for example, so they can't really relate. Most of these athletes from Africa will be able to relate to my story!" added Gorimbo.
Gorimbo is also one of the UFC-signed contingent of southern African fighters that include South Africans Dricus du Plessis, Cameron Saaiman and JP Buys.
Earlier in the week , the over confident Gorimbo also took to social media to send a message to the UFC president Dana White as he continues to prepare for his debut.
"God bless my work, I'm not perfect but I try. UFC debut loading, get the cheque ready Dana White and best believe I will be the first African who lives and trains in Africa to become UFC champion," he said.
The Zimbabwean athlete last fought in the USA-based Fury Fighting Championship where he earned a unanimous decision win over Brazil's Julio Rodrigues back in June.
Related Topics