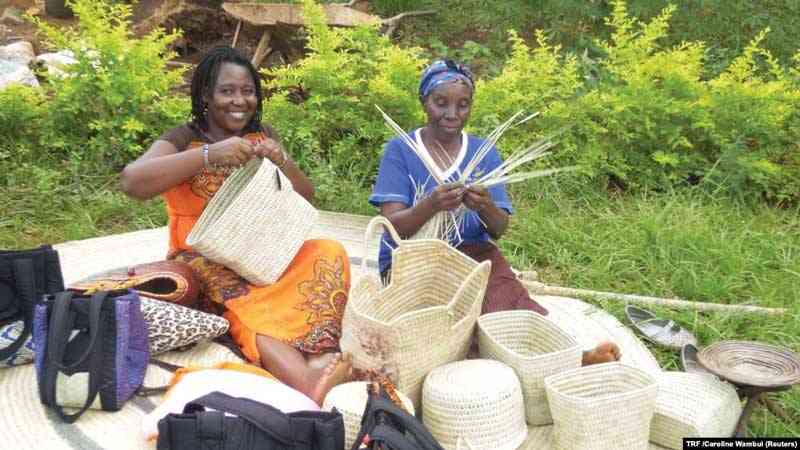 THERE is a noticeable vogue in Zimbabwe on issues of importance relating to indigenous knowledge systems and their connection to the aesthetics of art.
This craze has been characterised by the positive re-evaluation and the promotion of local knowledge and know how, old skills and belief systems all which can be harmonised into art and can also facilitate the process of development.
Using international bodies like the World Bank, Unep, Unesco to promote and intrumentalise indigenous knowledge systems, the world seems to have finally come to terms with what art and cultural practitioners had decades ago sought to drum into the ears of the West, namely, that Africa's local cultures and knowledge systems were not primitive nullities.
Indigenous knowledge systems are only different knowledge strategies as they encompass our native skills, wisdom and know-how which are not wrong remnants of archaic epochs but they were and remain different and equally valid strategies for coping with our environments.
Knowledge is often passed on through regular indigenous performances including oral traditions, song, dance and ceremony that convey both literal and metaphorical truths about these relations. Skilled individuals and families are entrusted to maintain these traditions; some are specialists who protect impenetrable and deep knowledge.
Artists like Phathisa Nyathi from Bulawayo are good examples of such experts who have so much indigenous knowledge.
Art and art making can impart indigenous knowledge and at the same time bridge knowledge across generations and cultures. Art making and artworks create continuity between generations via symbols and skill development.
Art can also create mobile and adaptive boundary objects that function as a shared reference point to connect different social worlds.
It remains of central importance for artists to understand the value of indigenous knowledge in the aesthetics of art. Scientific and Indigenous knowledge plays a key role in fostering collaborative governance and community adaptation, and in enhancing overall understanding of, and responses to environmental change.
For artists; being able to bridge knowledge systems is recognised as playing a critical role in helping to enhance resilience from local to global level. Now there are now international and national legal mandates to promote and protect Indigenous knowledge; for example, Unesco plays a critical role in that regard.
Creative methods of bridging knowledge systems that involve, for example, storytelling and oral history show promise in their capacity to engage with the many dimensions that make up knowledge systems.
Settings such as collaborative mural making, performance art, and digital storytelling all demonstrate how art-making and artistic processes can help to better understand each other's' values in the context of changing social and ecological conditions.
For every creative, the mechanism of embedding knowledge-practice-belief into artworks describes art objects in their capacity to represent knowledge. Artists leverage symbolism and depictions of real-life scenes to reflect knowledge systems.
Artists generally speak of their works as objects that can depict knowledge. For example a song can be used by an artist to educate people on a salient issue that relates to abuse, castigation of social ills or teach communities on cultural related behaviours, rituals and practices.
A piece of sculpture, for example, may demonstrate how one should live in harmony with others and embrace the path of forgiveness.
A theatre piece can be done to depict how people in the olden days practiced farming and conservation of land and resources.
Art and craft schools can also engage old women who are experts in basket making, weaving and pottery to pass on their skill and knowledge for the continuity of the skill to future generations.
Artworks and art making create continuity in one's identity that extends through many generations.
In this light, art making also bridges knowledge systems by offering an opportunity to share skills. The skills that are shared during art making can be related to the technique of artistic practice itself or knowledge or stories related to the phenomenon of interest. The sharing of skills remains important as it facilitates the growth and the development of the arts industry.
Art can also communicate practical components of knowledge which can be essential for survival; especially through storytelling and the use of folklore. This can embed a platform for the younger generations to learn about society.
For example, in the Zimbabwean context we have "Inganekwane" or "Ngano" which are stories with a meaning that can play a role in teaching the younger generation about life.
For artists, it is imperative that the actions of art and art making serve as a special language that helps bridge knowledge, practices, and beliefs among their communities.
This mechanism highlights an important relational aspect that emerges through the sharing of artworks and during collaborative art making processes.
Cultural exchange programmes remain an important feature that the government and different embassies should strive to foster where artists export the indigenous cultural knowledge that they would have gained.
Collaborative art making is a platform for knowledge co-production; whereby novel ideas or products emerge from different ways of knowing. Outcomes of knowledge co-production create an understanding of a particular situation or context that is richer than any individual perspective alone can provide.
Through their work, artists mirror changing environments or depict a memorable social-ecological event in their communities. In this way, the artworks themselves monitor environmental change, environmental anomaly, and in some cases how humans adapt to these changes. Artworks act as picture books that tell stories of an increasingly variable environment, and can enrich indigenous knowledge.
Raymond Millagre Langa is a musician, poet, writer, orator and founder of Indebo Edutainment Trust. Follow Raymond Langa on Facebook, Instagram on @Millagre Ray L. Email Raymond Millagre Langa on millagrepapaito@gmail.com and indeboedutainmenttrust@gmail.com
Related Topics