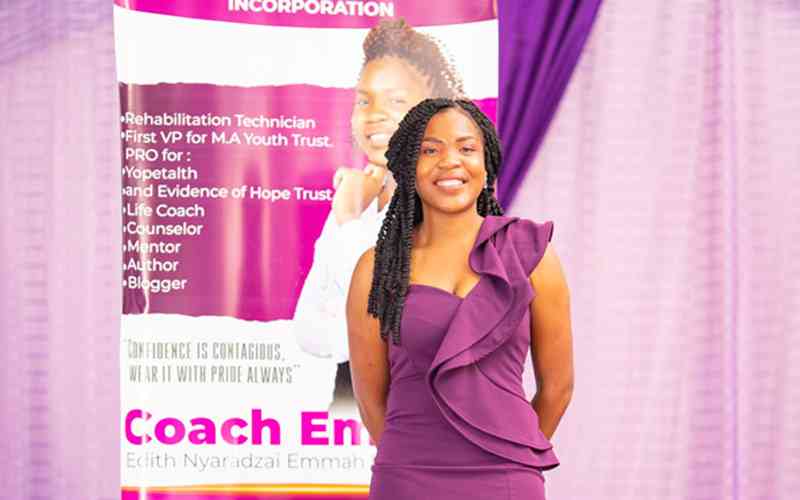 Bulawayo-based social transformation champion Edith Kasukuwere, popularly known as Coach Emmah, is reaping the fruits of her consistency, resilience and hard work following her recent MegaFest accolade in which she emerged as the 2022 Best Pro-Development Leader for the Southern Region.
Kasukuwere is a 26-year-old rehabilitation technician and counsellor at Jairos Jiri Bulawayo Vocational Training Centre and a certified life coach with the International Coaching and Mentoring Foundation.
She is also an author having published five books namely: The Kingdom Woman Speaks, Impairment Diaries, Behind the Desk, Amy and Mindset.
Kasukuwere said her nomination for the prestigious MegaFest Awards came to her as a surprise and that she had been in disbelief after being contacted by the organisers of the awards,
"I had to call and confirm with Megafest and when they said you were a diamond recipient I still did not understand it. Fastforward, I later on received the certificate and trophy and this meant I was the Best Pro-Development Leader of the Year 2022 for the Southern Region," she said.
She paid tribute to her organisation's Coach Emmah Incorporation and her supporting team for bringing the accolade home,
"Carl Maswoswa and Coach Emmah Incorporation team, look at what the Lord has done for us. The first ever award with my name on it. This can only be God," Kasukuwere said.
Through her organisation Coach Emmah Incorporation, she has demonstrated consistency and passion for counselling, mentoring and building youth leaders as well as promoting disability rights and inclusivity issues.
It is because of her consistency, resilience and growth which I have watched from afar that I consider her to be a builder of narrative and change driver who has established solid footprints of impact in the southern part of the country.
Part of her recent work includes a coaching and mentoring session with the students from Embakwe High School, a session which was meant to groom an empowered student whilst instilling confidence in the next generation of young leaders.
Kasukuwere is also a well-known champion of youth and disability rights issues and it comes as no surprise to me that she was also recently nominated for the 2022 Ignite Youth Awards in the Championing Disability Rights and Inclusivity Award category.
Her organisation is rooted in the conviction that young people differently able bodied need to be given leadership roles in different activities they partake in and sprouting support groups where they work together with other youths in areas such as career guidance and leadership so as to instil self-confidence whilst ensuring their inclusive participation in the society.
Through Coach Emmah Incorporation, it is her strong desire to confidently redefine success and in the process help create lasting legacies.
l FungayiSox works at TisuMazwi — a communication-centered social enterprise which specialises in research, book publishing and storytelling projects. He writes in his personal capacity. For feedback contact him on 0776 030 949, follow him on Twitter @AntonySox, or connect with him on LinkedIn on Fungayi Antony Sox.
Related Topics