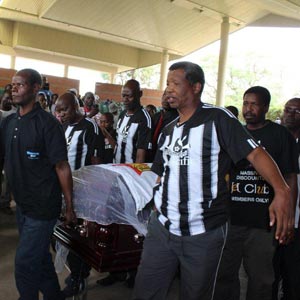 Soccer legend Adam "Adamski" Ndlovu got an emotional send-off as thousands of people from across the country gathered at the Lady Stanley Cemetery to bid farewell to the football icon who died in an accident near Victoria falls last Sunday.
Report by Fortune Mbele Mourners included former and current players, fans, politicians from different parties and thousands of residents from Bulawayo.
Zanu PF national chairman Simon Khaya Moyo said through football Adam united the country and described the Ndlovu brothers as household names not only in Zimbabwe but abroad.
Khaya Moyo said he received the news of Adam's untimely death while attending the ANC elective conference in Mangaung, Bloemfontein in South Africa. The meeting observed a minute of silence for the former Warriors striker before President Jacob Zuma conveyed his condolences to the Ndlovu family.
"We are here for a very solemn occasion. I came yesterday from Bloemfontein. When the message came that Adam had died, the whole conference went into some form of paralysis because we were alarmed at how he had departed. We observed a minute of silence because the Ndlovu family does not only belong to us but to South Africa and other countries.
Adam, Madinda and Peter are household names not only in Zimbabwe but across the continent. Zimbabweans in South Africa are mourning and President Zuma himself asked me to convey their condolences. They mourn with us; they grieve with us," Khaya Moyo said.
"Through soccer, the great son has brought us together. We must not betray the efforts of this boy lying in front of us. We must pray for the family to gather that strength and staying power. A person like Adam can never die; he passes on; he has been called for greater responsibility. He was a man who was simple but gifted with enviable humility. We have lost a jewel," he said.
Zifa vice-president Ndumiso Gumede also showered praises on the late Chicken Inn head coach, whom he also said had united the nation.
"The man we gathered about here came, played and conquered. We have lost so much in Zimbabwe football. Adam stood tall both as a player and as a mentor. We pray for Peter's speedy recovery to carry forward what has been left by his brother. Adam united the entire nation in language, colour, creed and race," Gumede said.
Education, Sports, Arts and Culture minister, David Coltart said he was shocked to hear the news of Adam's death and said the country was not doing enough to honour its sports persons. "While it is important to honour our soldiers, we do not do adequately to honour sports people and artistes in Zimbabwe. Adam projected Zimbabwe as a talented and multi-cultural sportsman. In other countries sporting personalities are recognised during their lifetime," Coltart said.