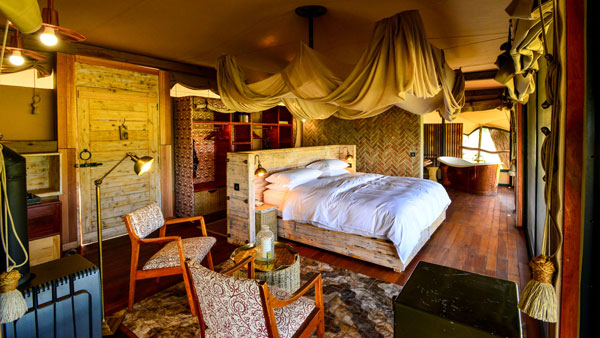 HWANGE — Nestled at the heart of Hwange National Park, where elephants are a common sight, Somalisa Camp is one of Zimbabwe tourism sector's best kept secrets. By Nokuthaba Dlamini
The camp, which was re-opened this year, is located on an acacia island along the edge of an ancient seasonal flood plain, which provides guests with a breath-taking view of the savannah plains across the famous Kennedy Vlei line.
The vlei is part of an ancient river system, which is visited by a wide variety of animals at the giant national park in Matabeleland North.
Somalisa Camp consists of 11 elegantly furnished sail tents with gauze sliding doors, a glass wood-burner fireplace for the cold winter nights, and an overhead fan for the hot summer days.
Each tent has en-suite bathroom facilities, including flush toilets, an indoor and outdoor shower, as well as a copper slipper-style bathtub. The main decking area, includes split level decking with a separate lounge and dining area, as well as a small splash pool for guests overlooking the "Elephant Pool" and a natural waterhole where herds of game congregate to drink.
Guests can also relax at the decking area while soaking in the sun.
Somalisa recently scooped a gold award for being the best pioneer in green tourism initiative in Zimbabwe.
Allan Van Rensburg, the camp's general manager said they were carrying out different initiatives that would see them going 100% green.
"We have completely eradicated plastic bottles on site and we provide a branded drinking bottle for all guests to use on their visit and take away with them as a memorable gift," he said.
"The whole workshop and vehicle parking bay has photovoltaic roofs [I think around 18 kilowatts].
"We also have a biorock ecological water treatment system, which treats sewerage water clean enough to drink and it is normally pumped into the animal pool near the camp that provides star gazing and animal viewing.
"We also have solar geysers and refrigerators which supply the whole camp and in a few weeks' time we will do away with generators that use diesel; as you know, they pollute the environment."
Somalisa also runs a community and wildlife foundation supporting solar cookers, entrepreneurship and wildlife research while recruiting local Hwange people, mainly youths.
The intimate camp also provides a wonderfully private experience in the biggest park where guests conduct activities, which include guided walks led by qualified and passionate guides.
The guides share their knowledge and love of the bush, game drives and night drives with the guests.
Wildlife sightings include elephant, kudu, sable antelope, zebra, wildebeest, gemsbok, the rare and endangered roan antelope, buffalo, giraffe, lion, leopard, hyena, and many other wildlife species
Innovative meals at Somalisa are influenced by European, Far Eastern and African cuisines and there is a choice of South African and Australian wine.
The camp last month hosted Australia's greatest chef, Matt Preston and recently had England's royal family, among other high-profile guests.