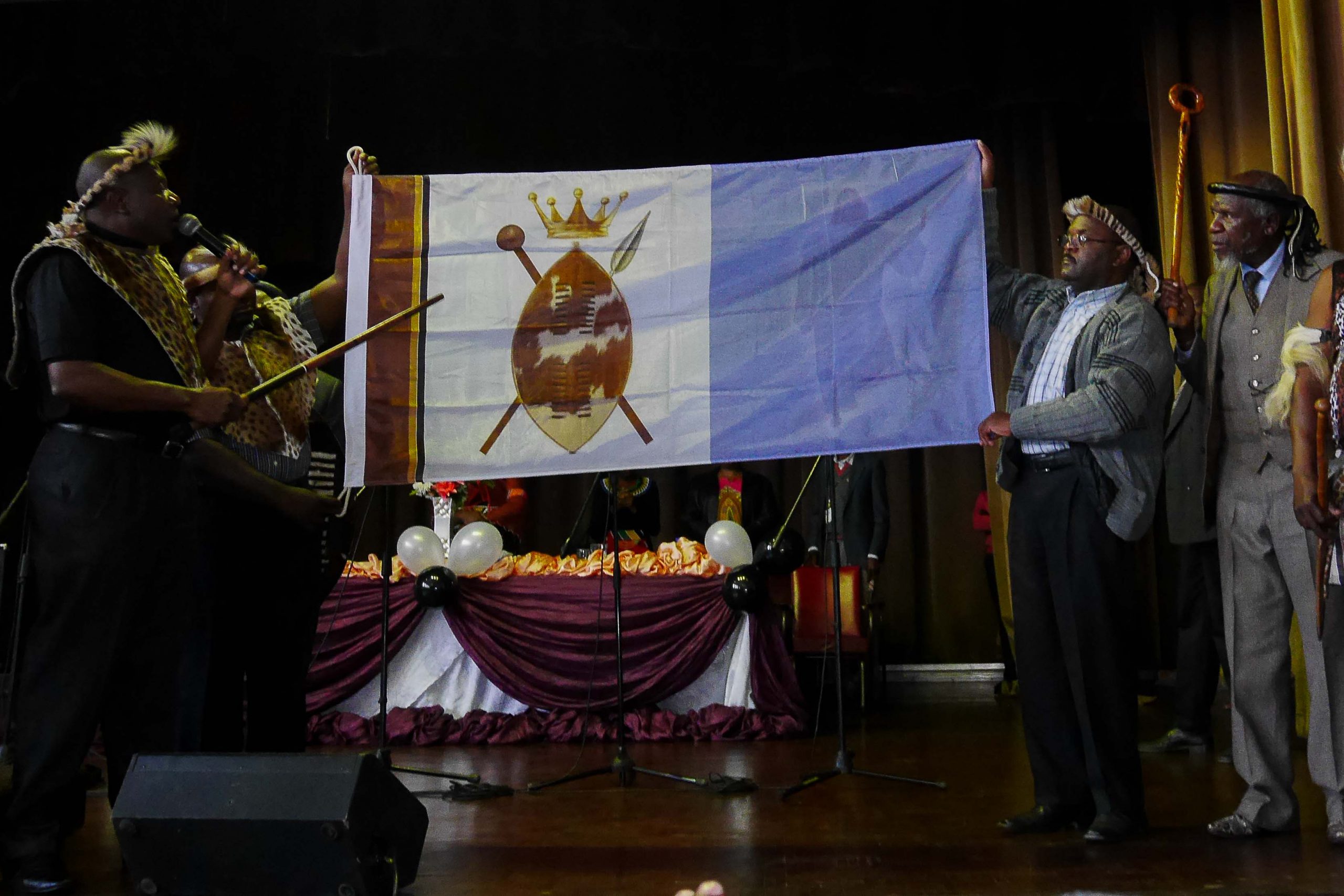 STANLEY Raphael Tshuma who has been making headlines for claiming to be the new Ndebele King, Mzilikazi II geared up his secessionist intentions yesterday by declaring Mthwakazi state and unveiling its flag at a gathering that was held at Bulawayo's Large City Hall yesterday.
BY RONALD MOYO
The colours of the flag — brown, gold and black — are symbols of the natural resources, which the Mthwakazi nation is endowed with, while white symbolises peace, he said.
The flag also has a sky blue colour with an imperceptible insert of a common white man — commonly referred to in the arts industry, as Christ.
Other features of the flag include a golden royal crown and a traditional shield with a knobkerrie and a spear.
While the features and the colours of the flag remain open to semiotic criticism, Mzilikazi II told the gathering he was convinced the flag was the right thing for the Mthwakazi nation.
Tshuma, who also told the gathering that his real surname was Khumalo, braved the nerve-wracking atmosphere of a fully —packed hall also declared September 12, as his inauguration day.
He stated that on the same day, the Mthwakazi flag will rise and the king's interim council will be announced.
"We have reached the point where we cannot look back. I know my people have been suffering. On September 12, this year the Mthwakazi flag will rise, and that's the day of inauguration. The interim council will also be announced. The event is going to be funded by you (referring to the gathering). You are going to pledge the food and money to fund the logistics of the day," he said.
In a clear bid to gain control of the "Mthwakazi nation", Tshuma emphasised on loyalty, asserting that the Ndebele people were historically loyal to their institutions, kingdom and king.
He made reference to the 1893 battle of Gadade where Ndebele warriors were engaged in one of the fiercest battles against the invading and marauding colonialist forces of British origin led by Cecil John Rhodes.
To futher capture the rage of the gathering, the "King" appropriated the tribal genocide of the 1980s, saying that it was a clear testimony that Mthwakazi is a nation on its own, and any efforts to incorporate it within other states always resulted in painful bloodbath.