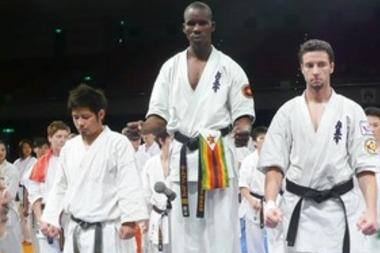 FROM birth until he was 17 years old, legendary Zimbabwean karateka, Shihan Samson Muripo's world revolved around the macadamia plantations in Chimanimani, near Rusitu valley.
BY MUNYARADZI MADZOKERE
Located 40km south east of Chimanimani, Rusitu valley is an area rich in fresh fruits such as oranges, bananas, pineapples, avocados and guavas, among others.
And when Muripo came into contact with karate as a secondary school student at Ndima in 1993 aged 15, little did he know that he had begun a journey that would take him across the globe and into international reputation.
Muripo is now a renowned fifth Dan Black Belt (Godan), Kyokushin Karate World champion with experience in international competitions and training.
He is also the first African World Kyokushin Karate champion and has won many other titles in his 24 years in the martial arts contact sport.
"My love for karate at first was for self-defence, nothing else, but lo and behold, I was just right in the plan of the Maker. Through day-to-day life in karate, I gained a lot of faith in myself and it got me to where I am today," the 38-year-old fulltime karate practitioner told The Sports Hub.
Muripo upgraded to Shihan, an honorific title for expert or senior instructor, loosely translated "master instructor" after he passed his exam and received his fifth Dan Black Belt on September 19 in India.
After adding another feather to his cap, the two-time Zimbabwe Sportsman of the Year sounded much like a kung fu master from a movie script.
"After gaining faith in my quest for knowledge some years back, this is the fruit of faith that I gained in karate. This faith became the victory that overcame the world in 2009, and still pushes me to achieve the best that was allocated to my predestined path by the Lord God Almighty," he said.
Muripo's date with destiny was set up when three of his teachers, one Mr. Bepete, Mr. Munyoro and Mr. Saungweme who had prior training in Cuba introduced the sport at Ndima Secondary School.
With a desire to learn self-defence, he joined the classes.
His inspiration was not the icons of martial arts cinema, Bruce Lee or Jacky Chan, but Sosai Masutatsu Oyama, a world renowned karate master who founded Kyokushin Karate — considered the first and most influential style of full contact karate.
"Martial arts films inspired a lot of people in karate today but I give credit to Sosai Masutatsu Oyama, the founder of Kyokushin Karate. His training history inspired me to be where I am today — never to be satisfied with your work, always aiming higher than before," he said.
Muripo also spoke about his journey in the sport since he took his first teenage steps.
"It has been a tough journey but it changed my life. I exhausted the little I had and God networked me with people that saw my will to fight and supported it. I found myself in the presence of Hanshi Daigo Oishi, ninth Dan from Japan some 11 years ago, in July 2006, seeking knowledge.
"I attended his training camp and later on went through a one-on-one Kyokushin Karate developmental training programme with him that totally changed me. Thereafter, I was a fire brand and he personally said to me, 'wherever you're going, you will be a champion', after seeing the fire which was burning inside me," Muripo said.
Apart from being an experienced trainer in mental and physical co-ordination, Muripo, who is always travelling around the world, is also a branch chief in the Zimbabwe So-Kyokushin Karate-Do Organisation.
He is also the Africa Development Officer and Council Member in the International Karate Organisation Kyokushinkaikan World So-Kyokushin.
he is also a qualified technical dan examiner, among other various posts he holds locally and regionally.
Now that he has achieved a lot in karate, Muripo's passion and dream lie in helping others express themselves through karate.
"I am responsible for the development of So-Kyokushin Karate in the region, a task I am religiously working on right now to make sure that I give my all," he said.
While he carries an international mandate for the development of the sport, Muripo does not forget his own country, which he believes has become a force to reckon with in the world.
"Zimbabwe has become a force to reckon with in the region and the world over, which resulted in the country recently hosting a prestigious event, the first So-Kyokushin International Karate Tournament at the Aquatic Complex in Chitungwiza where the world karate guru, president of the International Karate Organisation Kyokushinkaikan World So-Kyokushin, Hanshi Daigo Oishi was in attendance," he said.