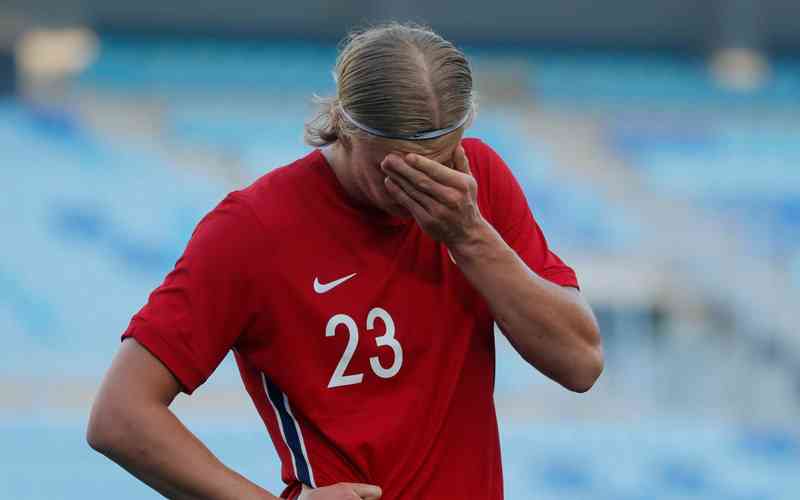 IMAGINE what the world's most prolific striker must be thinking about the fact that he won't be able to showcase his extraordinary ability on the world's biggest stage, the World Cup.
As he completes the first half of the most remarkable EPL debut season ever, Erling Haaland must be lamenting the fact that his beloved Norway's failure to qualify is going to deny him an opportunity to stake his claim as the world's best striker.
Erling Haaland's statistics for Manchester City this season are quite unprecedented and suggest that he's going to break every single EPL record.
The only person in living memory who had a similar breakthrough season in a major league is none other than the great Brazilian Ronaldo who obliterated La Liga defences on his way to 34 goals in 1997.
He subsequently would go on to become one of the all-time world greats and lifted the World Cup himself in 2002.
Haaland, however, must be asking himself if he will ever be able to get the same recognition on the world stage because of the reality that he represents lowly Norway.
It got me thinking about stars like Haaland who are going to miss out on the grand football extravaganza which happens only once every four years and which is literally now on our doorstep.
As with Haaland, because of Norway's failure to qualify, we are also going to be denied the pleasure of watching Martin Odegaard, a man who I believe in time to come, will be to Arsenal what David Silva was to Manchester City!
Secretly though, I'm absolutely convinced that both their club coaches Pep Guardiola and Mikel Arteta are jumping for joy knowing that their key assets are at home and safe from incurring season threatening injuries while away on national duty.
Of course it's not just the Vikings who have missed the boat!
There are presently 32 countries that get to participate at the World Cup and this means that at every World Cup, certain countries fail to qualify and some high profile superstars miss the fiesta.
With Africa still limited to a meagre five countries, it means that yet another World Cup is upon us where many of our best players will be absent.
Perhaps the most notable African absentee will be Mohammed Salah.
It now seems like the World Cup of 2018 will be the only one which he has participated in, which is regrettable because he was way below his best in Russia.
He is though not the only African superstar who will be missing this year and chief among them is Nigerian Neapolitan striking sensation Victor Osimhen.
While he's not singularly responsible for Napoli's breathtaking start to the season, he is definitely the breakthrough star of 2022.
I regard him as a perfect mix of Didier Drogba and Samuel Eto and potentially the first genuine African Ballon d'Or contender since Liberian George Weah won the accolade in 1995.
With Liberia not being a soccer powerhouse,George Weah himself never had the opportunity to play at the World Cup.
I guess it's no surprise then that George Weah's son Timothy, has chosen to represent the USA ahead of the country his dad is president of!!
Another African legend of yesteryear who did not get to compete at the World Cup because his country failed to qualify during his career was Ghanaian Abedi Pele.
Fortunately the Ayew household will now see Abedi's sons Jordan and Andre both participate for Ghana in Qatar.
With Algeria, Ivory Coast and Gabon also not making it through, we will miss out on seeing Riyad Mahrez,Franck Kessie, Wilfred Zaha and Pierre-Emerick Aubameyang amongst others.
Bear in mind that it was only recently that Africa's quota was raised to five countries.
In 1994 there was only place for three African sides and unfortunately Zimbabwe's famous Dream Team which included Peter Ndlovu, Bruce Grobbelaar, Norman Mapeza, Moses Chunga, new teenage sensation Alois Bunjira and my junior playing buddie Henry Mckop failed at the last hurdle with Cameroon pipping them to a World Cup place.
Across the Atlantic, the majority of superstar South Americans are on their way to Qatar although ex pin up boy and superstar James Rodriguez and injured Luis Diaz are going to be curled up on their couches.
Colombia who have an impeccable World Cup qualifying pedigree, surprisingly this time around collapsed in the run in to Qatar.
Meanwhile late EPL bloomer, Miguel Almiron of high flying Newcastle and Paraguay will also to the relief of Eddie Howe get a well-earned rest and some time to recuperate.
Others to get a vacation they would ordinarily choose not to have, include a number of brilliant Brazilian attackers.
Bizarrely being so spoiled for choice, players of the ilk of Rodrygo of Real Madrid and Jesus at Arsenal may not even make the squad!
If I was Jesus, I'd start praying!
Europe has the largest contingent at the tournament with thirteen sides participating, but there has always been some superstar or other who has missed out and it's no different now.
Atletico Madrid stopper Jan Oblak is always in the conversation when it comes to discussions about the world's best goalkeepers.
Unfortunately for him, playing for minnows Slovenia means that he misses out again this year and may ultimately never get to the World Cup.
Then we have Zlatan himself whose Swedish side unusually missed out this time.
Such failure for Sweden is rare as they are regular World Cup participants but it does mean that no matter what diet or fitness regime Zlatan is on, I'm convinced it's now curtains for him and he will never play another World Cup.
He is privileged in that he has at least had the good fortune to represent his country at the World Cup which sadly is not always the case.
Serial trophy collector David Alaba of Real Madrid and Austria has a handsome collection of European League and Champions League medals but has never had the privilege of playing at the World Cup.
I bet he'd swap a medal to two for that chance!
He however shouldn't beat himself over it as throughout history there have been numerous superstars who never managed to grace the World Cup.
If a list were compiled of such players, it would be headed by Argentine Alfredo Di Stefano of Real Madrid fame, widely acknowledged as one of the greatest players ever and who has the unique unsurpassable record of having scored in five consecutive European Cup finals between 1956 and 1960.
Similarly, Manchester United all-time greats Eric Cantona, George Best and Ryan Giggs all never got the opportunity.
In Eric Cantona's case I put it down to the political tension in the French camp and his bad blood with the French coach at the time, Aime Jacquet.
There of course was apartheid politics of a more serious nature which deprived arguably South Africa's best ever players, Jomo Sono and Ace Ntsoelengoe a chance to shine at the highest level.
Italy meanwhile cannot use politics an excuse and traditionally they have qualified with relative ease.
In recent times though, they have made an absolute hash of things and they failed once again this year to qualify for the World Cup after also missing out in 2018.
Marco Verrati, Enrico Chiesa and Gianluigi Donnarumma are some of their stars who will be absent.
Mind you, if you can't beat North Macedonia in a play off, then perhaps we need to reevaluate Italy's position as a world football force.
With this year's version of the World Cup slap bang in the middle of the season, an inevitable by-product was the possibility of stars being injured at precisely the wrong time and ruling themselves out of contention.
Spurs striking Son and Chelsea's Ben Chilunwell were such casualties this week to add to a growing list.
Already France have half a midfield with Ngolo Kante and Paul Pogba ruled out and with Rafael Varane also missing through injury, France will go to this World Cup with one quarter of their 2018 winning side absent. Let's hope that they and other sides can avoid further crucial injuries as the showdown looms even closer.
In closing, it's one thing getting a World Cup depriving injury on the pitch but it's another thing getting a freak injury in the comfort of your hotel room at the team's training base as Santi Canizares of Valencia and Spain experienced in 2002.
Just days before the Spanish national side were due to depart for the first Asian held World Cup in South Korea and Japan, Canizares accidentally smashed a bottle of aftershave with the flailing glass severing a tendon in his right foot promptly ruling him out.
It was a goalkeeping handling error like no other in the entire chronicles of the game and cost him his dream of playing at the World Cup.
Till the next time folks, careful with your aftershave……
Follow The Soccer Whiz on Twitter @thesoccerwhiz
Related Topics