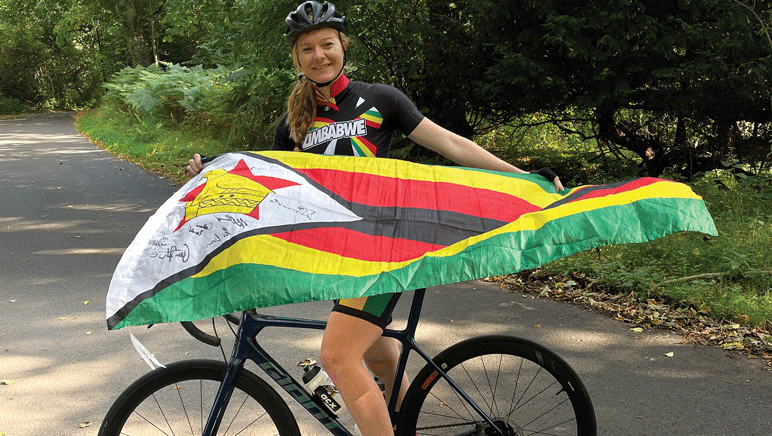 BY MUNYARADZI MADZOKERE
UK-BASED cyclist Skye Davidson is set to represent the country at the 2022 UCI Africa Championships set for Sharm El-Sheikh, Egypt later this month after a successful fundraising campaign to cover her costs for  the prestigious continental competition.
The UCI Africa Championships are scheduled to run from March 23 – 28 in the North African country.
Davidson, who graduated with a Bachelor Of Science Degree with Honors in Astro-Physics from the University of Edinburgh last year, is currently one of the leading female cyclists in the country.
Last week he set up a GoFundMe account to raise 1500 pounds for the trip and had surpassed the target by Thursday.
"Hi everyone, my name is Skye and I'm a national road cyclist racing for my country, Zimbabwe. I've recently been selected to compete at the 2022 UCI Africa Championships held in Sharm El-Sheikh, Egypt from 23-28 March," Davidson said on her GoFundMe platform.
"I've been training for several months and doing a few races where I'm based in the U.K., but unfortunately the Zimbabwe Cycling Federation doesn't have the financial means to support its athletes, so I won't be able to cover the costs of flights, accommodation, and food on my own.
"So I'm asking for some help!
"My visa application is already submitted and I'm determined to do everything I can to get myself there, so I'd be so grateful for any additional contributions. Thank you!," she added.
By Friday Davidson, who is the daughter of Zimbabwe's legendary female cyclist Linda Warren, had raised close to 2100 pounds on the platform guaranteeing her participation at the continental championships.
The 24-year-old cyclist had an opportunity to fine tune for the UCI Africa Championships when she took part in crits organised by Scottish-based junior development team Spokes Racing Team in Lochgelly two weeks ago.
Late last year Davidson was scheduled to represent the country at the World championships in Belgium but pulled out on the eve of the event after her visa failed to arrive in time.
She also cited personal reasons for the no show at the global event. In the past four years Davidson has been largely representing the University of Edinburgh cycling team while she featured in some top events during the same period.
The former Hellenic Academy student has represented the country at many international events namely the African Games in 2019, the African Continental championships in 2019 and the World Road Cycling Champs.
Related Topics