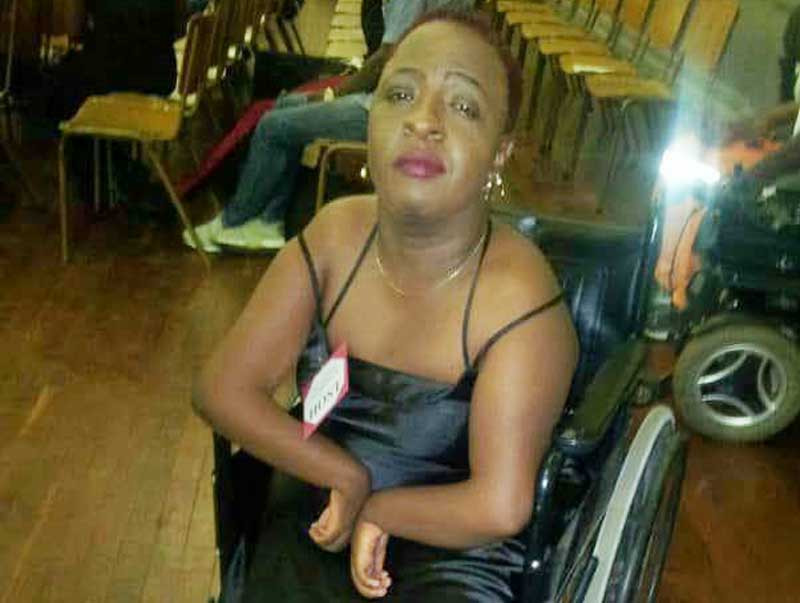 PEOPLE with disabilities (PWDs) have suffered a lot of marginalisation to the extent that they have been excluded from a lot of arts activities including beauty pageantry.
However, Here We Rise Trust founder Thando Ndlovu says such stigma is unnecessary as PWDs are beautiful people that are only differently-abled.
"Society has created an environment where the specifics of beauty have been defined, and are seen from the perspective of the able bodied individuals. The image of beauty is now being wrongly described as being a representation of the light-skinned, slim and people with perfect bodies. As a result, PWDs are seen as 'not beautiful'," Ndlovu, a PWD herself said.
She says in order to remove the wrong stereotypes that PWDs are 'not beautiful', her organisation, Here We Rise Trust introduced a beauty pageant for PWDs in Bulawayo for the differently-abled.
In Zimbabwe, most beauty pageants are associated with the able-bodied as society stigmatises PWDs, and regards them negatively without taking cognizance of that they also have great potential.
Thando represents different individuals with a vision and a drive to fight and advocate for the rights of persons with disability within the arts sector in the country.
"The arts sector too has seen the rampant marginalisation of artistes with disability and the modeling or beauty pageant industry has also overlooked the potential of PWDs, who are excluded. There is lack of inclusion.
"Through the organisation I founded Here We Rise, I created a beauty pageant called Mr and Miss Inspirational. The contest involved males and females with disabilities like me who have always just stayed in their own corner, and who haven't dared show themselves to the public. Now they will finally have the courage and strength to come forward and showcase their beauty as PWDs.
"They must be brave enough and everything will work out. This is the message that we are seeking to elevate and tell through the creation of the pageant, and it is in a quest to create a society that is characterised by the prevalence of mainstreaming PWDs," Ndlovu said.
She feels that generally Zimbabwe has not been very disability inclusive as most infrastructure such as buildings and transport facilities have not been built to accommodate PWDs. This has severely led to lack of inclusion of PWDs in different sectors, including the beauty pageantry and arts sector in general.
"And then there is the way people look at you when you are a PWD. It's complicated - even within our own families. Some reject us because we're disabled. I was lucky to have good parents.
"The beauty pageant is one way to challenge such long-standing prejudices which affect our society as I believe we have been created equally beautiful. The contest allows us to show that despite our handicap, we are capable of appearing in public –and in front of people showcasing that we are also beautiful."
She says the critical factor is that beauty is something that has to be understood in the perspective of difference, and that PWDs belong to a minority, but if their confidence is boosted and they are given the opportunity to participate in everyday activities, their voices will be heard.
"Yes, PWDs struggle with pain in their bodies, but their involvement in such pageants can also have a therapeutic effect on them."
Ndlovu says lack of funding for projects to empower persons with disabilities so that they can cope with life has greatly disadvantaged them.
"Our pageantry has been experiencing funding problems. We had planned to host a beauty contest in December at the Small City Hall in Bulawayo but we experienced problems with lack of funding for prizes and venue hire.
"I had the expectation of stakeholder support but it was unfortunate that this support was seemingly ignored. Due to lack of support we had to postpone the event to February 18, 2023 with the hope that we will get adequate sponsorship, and also some artistes that are willing to provide entertainment at the event."
Ndlovu says the pageant aims to give confidence to PWDs as most of them are so disadvantaged that they have not had access to education or any kind of training.
"The situation is even worse in rural areas, where women are thought to bring bad luck, especially women with disabilities. PWDs feel that they are shunned, and this makes them too depressed. We, however, remain strong, resilient and hopeful that we will solve the challenges we face. We also hope that the pageant for PWDs will be promoted in other African countries as PWDs have been marginalised for a very long time.
"A handicapped man or a woman still remains handsome or beautiful. We are people with feelings too and we are human too. Despite my handicap, I am beautiful and am still a woman. Mr and Miss Inspirational seeks to tell the story of every PWD so that they are not left behind and remain in the sidelines of the able bodied people. I consider everyone beautiful. Actually, the beauty of the heart is far much better than physical beauty. This pageantry stimulates the feelings of solidarity between the physically-abled and PWDs".
It is really sad to note that PWDs continue to be compromised in developmental issues and are excluded in the arts sector. Beauty pageants for PWDs can play a confidence-enhancement role to people and it is therefore necessary for the corporate world and other stakeholders to support them with donations.
Raymond Millagre Langa is a musician, poet, orator, independent researcher and founder of Indebo edutainment Trust. You can follow on Face book @Millagre Ray Langa, on Twitter you can follow on #Millagre Langa, email. millagrepapito@gmail.com or indebotrust@gmail.com.
Related Topics