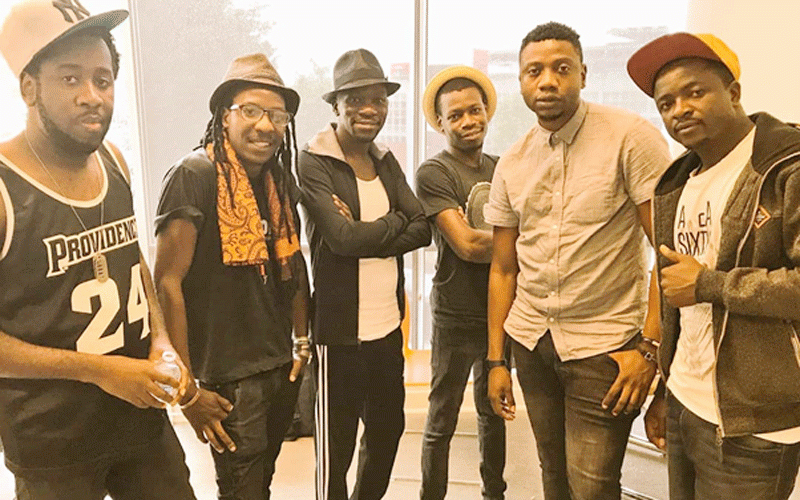 Despite the continuous power outages in the country where electricity is expected between 11pm. and midnight, it requires someone with a heart of steel and lots of cash to fuel a back-up generator in order to organise a concert such as the one Mokoomba had last weekend.
The beginning of 2023 has been particularly prolific for Mokoomba and it looks like this year is going to be busier for the Victoria Falls band when compared to the Covid 19-stricken lockdown years of 2020 to 2022.
Mokoomba held their first show in Zimbabwe this year on February 4. It began at 7:30pm and ended at 10:30pm. A repeat show aimed at accommodating those who could not attend the Saturday show due to limited space; with the same repertoire at the same venue held the next day. It also began at 7:30pm and ended at 10:30pm.
I attended their live "acoustic" show at the Alliance Francais theatre last Sunday and it was out of this world.
Mokoomba started the show with some soulful ballads. Mathias Muzaza, who sounded like a possessed man in ventriloquism with his rich mezza-soprano voice which ranged from the lowest note to the highest musically useful pitches, defied weight of expectation on this live performance. Sitting on a chair during the first three songs of the set, he began to thrill the audience with his theatrical imagination and undiminished voice.
The multi-racial crowd which consisted of mainly Black and White Zimbabweans warmed up to the band as they clapped in appreciation at the end of each song. Muzaza went further into the third song, but the audience although worked up, could not leave their chairs as there was no space to dance. They just nodded their heads and clapped while seated. Then the heat of the moment began when Mokoomba belted hit after hit at a time when the audience could not resist dancing behind their chairs. On realising that the crowd had now begun to eat out of their hands, the whole band dropped their instruments, as if to tell the crowd to sit down and listen. (Mind you, this was an acoustic concert). Then they roared into, a Shona acapella tune. They knew that this would resonate with the majority of the audience. The harmonies coming from the rest of the band were magical and purely amazing.
Ndomu Chipendo, the lady sitting next to me, knew every word of the next song and she also sang along. The band is surely gifted with singing voices. At this point in time, the audience had gone ecstatic. The band then picked up its instruments and together they sang the popular tune Mbibe again in perfect harmony and at the same time showing off their well-choreographed gyrations which have become part of the Mokoomba showmanship experience.
This Victoria Falls collective were awestruck by the big response coming from the crowd as they stormed through their new hits from the forth-coming album, Sona, Munaye and Nyaradzo, even surprising fans by bringing out the percussionist, to the front to dance with Mathias and Trust (The band's two strongmen) to humongous cheers.
Their mix of drum and bass beats and liquid Afro-fusion rhythm brought to life with a live band was a deserving booking for the famous Old Mutual Theatre's Alliance Francaise De Harare stage. Missing in action was the dreadlocked bass player, Abundance Mutori whom I am told had gone back to Victoria Falls to attend his late father's memorial and to other family matters. However, his replacement was equally good. That shows that the band had some serious rehearsals before going on stage.
I was also surprised to notice that Mathias Muzaza's vocabulary in both English and Shona has greatly improved from the last time I saw the band when I had failed to interview him due to communication problems. (quite understandable as his mother is Zambian and father is Angolan and he was raised speaking Tonga in Victoria Falls's Chinotimba Township). This is when I wished I had studied Tonga in school. However, during tonight's concert, he managed to say a few words in both Shona and English: "Muriko here uko? This is 2023. This is Mokoomba from Victoria Falls".
Due to my lack of knowledge in speaking Tonga or Bhemba, I was at pains trying to make sense of the lyrics in their songs. I even got some of the titles wrong. And with so much music that has never been played before in front of this audience, this was always going to be a snapshot. More dancey tunes came one after another from Makisi to another Shona tune, Nzara which got a few members of the audience to get up and dance within their limited spaces. They belted the familiar tune, Misozi before leaving the audience completely dumbfounded.
In Harare, since winning the Music Crossroads International competition in 2007, the band has been considered outsiders because they sing mainly in Tonga and audiences have been slow in warming up to their songs, but not tonight. Indeed it has taken time for Harare audiences to appreciate them due to both the barriers in language and the fact that they are not a sungura or Zimdancehall band which most people are used to. However, with word spreading around Zimbabwe, that these guys are doing wonders in Europe and are getting awards and accolades at major festivals across Europe, every Zimbabwean in the country has now become curious to see what makes them tick. The Europeans know that this is a band coming from Africa and do not care less about the language as long as the musicians show off their wild African rhythms and wild gyrations which the band members are good at. On top of that they bring out good music and beautiful harmonies.
If ever there is a musical collective that defines and inspires the Zimbabwean tourism industry in its besieged infancy, then Mokoomba is it; the lightning rod, the benchmark and the precious attraction of the much-needed foreign currency the country always moans about. Environment, Tourism and Hospitality minister Nqobizita Mangaliso Ndlovu would be found lacking in good sense of judgement if he does not use this band to attract foreign tourists to Zimbabwe.
After all the band hails from Victoria Falls, one of the seven wonders of the world. Besides, they have taken their trade to so many Western countries such as Holland, Germany, the United Kingdom, United States, Malta, Sweden, Switzerland, Canada and many more countries where they have been generously appreciated. Some tourists from these countries would already be familiar with the band.
The tour this year which begins in June will touch most of these European countries. According to Marcus Gora, the band's manager, the band will release it's third album titled Tusona (Tracings in the Sand) next month.
At the concert last Sunday, we were treated to new tunes from the forthcoming album such as Munaye, Sona and Nyaradzo which are all being featured on the Tusona album. We, in the audience were asked to shout out "Sona Sona Sona" when Mathias commanded us to do so. Although we didn't know the meaning, we obliged.
(The danger of this is due to the fact that one might be shouting some blasphemous words or profanities without knowing it since this is a different language. Do I even know what Mokoomba means?)
Mokoomba are indeed Zimbabwe's international ambassadors on a large scale as they continue to raise the national flag high. Who can deny this? It is about time every Zimbabwean gets to hear and know this band. We await the release of the new album, which if the live show is anything to go by, every Zimbabwean would love it.
Related Topics