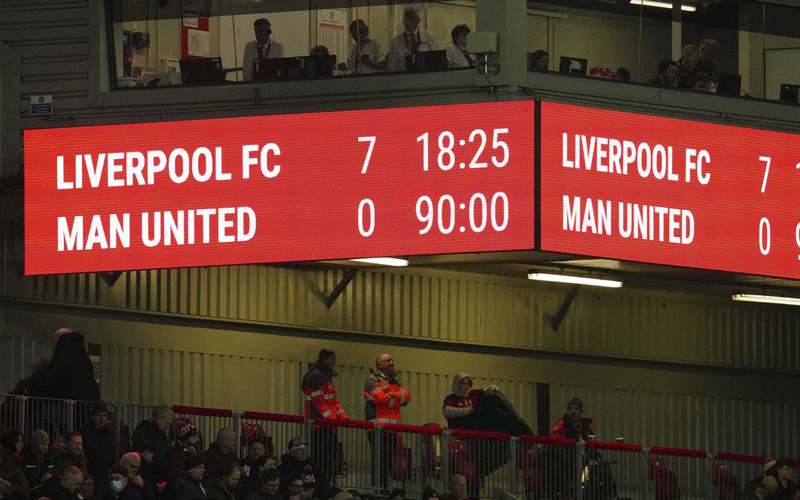 A lot of things had been happening especially during the last few days.
The other day, three streets away from us, a guy with a funny name, Big Number had killed his father over a US$1.
The story was he had been sent to buy bread.
He only returned home hours later drunk like a drunken master in a kung- fu movie.
An argument ensued after the father asked about the bread.
Big Number got into a fit of rage and stabbed his father to death using a kitchen knife.
And only a few days before, a 14-year-old girl, who had disappeared on her way home from school had been found dead in a maize field with some parts of her body missing.
The weekend before, Manchester United had been humiliated by Liverpool. Seven goals to nothing was a heavy defeat. So as I was saying, many things had been happening.
The saddest part is that one of Manchester United's local supporters had committed suicide over this dismal defeat.
I am just thinking that if Manchester United were to lose more games with such scorelines, it would run out of supporters.
These were strange times indeed.
As I boarded the Zupco bus to work that morning, I was suspicious of everyone, especially the guys.
You would never know the bad guys from the good by their mere looks.
There was too much noise in the bus, especially at the back where I was sitting.
A woman whom I had never seen before came and sat by my side.
She literally almost took the whole seat and squashed me to the window. On another day, I would have laughed. This was not funny at all.
To make matters worse, Sixpence was making a lot of noise at the back of the bus. Sixpence was the typical noisy bully. He would catch the early morning bus just like other people.
Many people said he was not employed anywhere. But five days a week, most of the time we travelled on the same bus both to and from town.
He would always try to pick a fight.
I was trying to read the newspaper. It was two days old, but the news was news. It never got stale.
I had since stopped looking at the vacancies section. I had tried applications before to no avail. In the country, without the right connections, it was difficult to get a job.
It was more like "whom" do you know to be able to get a job. Being called for an interview in most instances was just for window dressing.
A lot of things happened under the surface. It was not always the best candidate being selected for the job.
As for those who were employed, the majority were earning below the poverty datum line.
More of a hand-to-mouth existence! I could not help to notice the anxiety and helplessness on the faces of my fellow passengers.
The harassed expression was more visible on the ride back home.
For most people, it was not a happy existence. The hope was maybe on the morrow, life would be better.
"Hey, why are you not laughing like the others?" That was Sixpence.
And his forefinger was pointing at me. He was two seats away from me. I felt the other passengers staring at me.
This was the wrong time. Sixpence was trying to pick a fight with me. I simply ignored him.
I went back to reading my newspaper. One article caught my eye. Zec was on an overdrive for voter registration. The elections were just around the corner.
It was my guess that three quarters of the passengers had not even bothered to register to vote.
The likes of Sixpence would continue to make fools of themselves. As for the things that mattered to transform their lives for the better, they took a back seat.
It was like the whole country was on a bus ride to nowhere.
For Feedback; email: [email protected]/Twitter @Onie90396982/Cell 0773007173
Related Topics