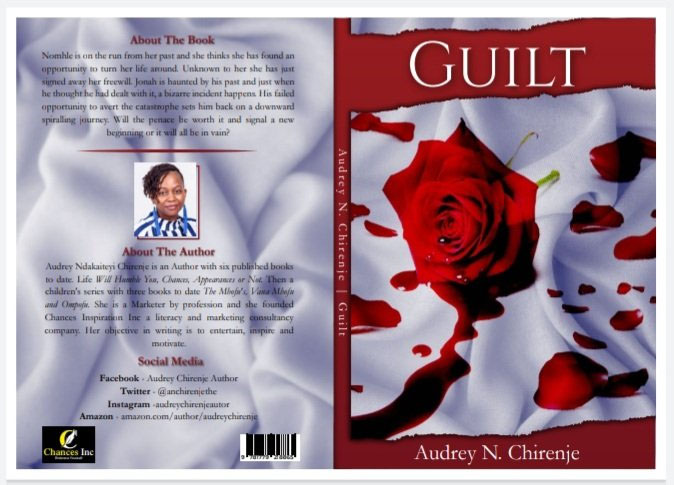 Fungayi Sox In the first article last week, I focused on Nomhle, the protagonist in Audrey Chirenje's latest book titled Guilt.
For those who may be reading this article for the first time, Chirenje's book Guilt is a fiction novel whose setting alternates between Botswana and Zimbabwe.
Nomhle is on the run from her past and thinks she has found an opportunity to turn her life around. Unknown to her, she has just signed away her freewill. Jonah is haunted by his past and just when he thought he has dealt with it, a bizarre incident happens. His failed opportunity to avert the catastrophe sets him back on a downward spiralling journey. Will the penance be worth it and signal a new beginning or it will all be in vain?
Jonah
Interestingly, in the text Guilt, all the main characters are haunted by their past. Jonah who rescues Nomhle in Botswana also seem to find himself there (in Botswana) as he attempts to start afresh and find a pristine environment but the ghost of his mother, whom he murdered keeps resurfacing and haunting him mentally,
"I killed my own mother. What kind of child was I The who chose not to abort me…? The visuals won't go away, my hands have got blood on them". (pp 36)
We also learn that he had been having sleepless nights,
"I woke up screaming again (old sweat trickling down from my head to my vest…. The nightmares had stopped for almost a year now…. I had to pop in sleeping tablets for a year" (pp 35)
In the text, Botswana becomes a metaphorical escape destination where characters are in a quest to sanitise their "Guilt". In an attempt to sanitise his conscience which is littered with guilt after killing his mother, Jonah, tries to comfort his father by sending him money each month,
"That's the least I can do, I had taken the old man's wife. So, in my head I think If he has all his financial needs met, it will ease up his grief and loneliness." (pp 37)
Moreover, in an attempt to find solace and clear his conscience by starting afresh, Jonah realises that he misses his mother and finds solace by drooling over Nomsa whom he rescues from the Oskid Cult in Botswana. The cult had tricked Nomhle through a bogus Maid Jobs Advert and through this the author reveals that although Jonah might have committed murder, there is still the good human side in him.
For the greater part of the text, Jonah resembles male oppression and dominance over women as demonstrated by how in his search for companionship in Nomsa, he rapes her during a date sleep over and Chirenje here explores contemporary societal issues and becomes a championing voice speaking out against ills such as date rape or rape and domestic violence.
It is unfortunate and regrettable that despite his deadly sins, murdering his own mother, sexually abusing and raping Nomhle, being a male chauvinist, Chirenje allows the author to continue to live on as a villain.
Although I would personally have expected Jonah to be swallowed by the Samurai swords, Chirenje's defence could be to perpetually punish him with guilt or bring his hell to earth.
The Good Samaritan driver
The old truck-driver who transports Nomhle from Botswana and drops her in Checheche is another symbol of the existence of hope in good people in our society.
He transports Nomhle, treats her like his own daughter and buys her groceries when she lands in Checheche.
He is used by the author to transport Nomhle to begin a new chapter back home in Checheche.
Joshua
As Nomsa arrives back home in Checheche, she is given a new lease of life when she meets Joshua.
There are so many reasons why Joshua is one of my favourite characters in Guilt apart from the fact that he is everything opposite of what Jonah is.
Firstly, Joshua loves his mother and has a very close relationship with her.
Secondly Joshua heals and rescues Nomhle from her dark past and represents the good men who are tolerant and respectful to women and work extremely hard to earn the love they deserve.
In my view, his name–which carries the biblical equal of the personally appointed successor to Moses and a charismatic warrior who led Israel in the conquest of Canaan after the Exodus from Egypt — Joshua becomes the biblical rescuer of Nomsa from her dark past.
Finally, it is unfortunate that despite being good, the author kills Joshua who is the symbol of hope for those who stand up against evil when he challenges the Oskid Cult and is killed by the Samurai squad.
Fungai Antony Sox works at TisuMazwi — a social enterprise which specialises in book publishing and storytelling projects including book editing, ghost-writing, content creation and digital media. He writes in his personal capacity. For feedback contact him on 0776 030 949, follow him on Twitter @AntonySox, or connect with him on LinkedIn on Fungayi Antony Sox.
Related Topics