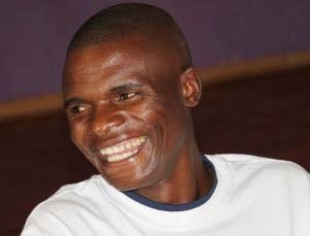 Anyone who watched Nigerian movie Usofia in London can be forgiven for revisiting the production following an announcement that local comedian Freddy "Kapfupi" Manjalima is billed to perform in London next month.
BY KIMION TAGWIREI
In the Nigerian movie, Usofia, is a character with a strong rural background who is perplexed with life in London. The comical way in which he acts would remind many of Kapfupi's theatrical antics. Kapfupi is set to perform at a charity dinner for Stephanie Chiyangwa's book launch at The Grange Tower Bridge in London on November 2.
The daughter to business giant Phillip Chiyangwa is expected to launch her book titled Situation is Never Destiny.
Kapfupi says he is very happy to have a lifetime opportunity to perform in London for the first time.
"I am so happy for this opportunity to perform in London. My wish is that I may grow to an international level like Tuku [Oliver Mtukudzi]." Lloyd Tevedzai and Charles "Marabha" Merisi will accompany Kapfupi for the London show.
Stephanie confirmed from the UK that she is making arrangements for Kapfupi to get to London "for the charity dinner gala, launch of my book and to showcase his talent".
Rising from a very poor family, the multi-talented comedian-cum musician experienced a hard life, as his parents only managed to get him to grade seven, acquiring only simple primary education.
Funny and brilliant Kapfupi was born with an outstanding acting talent. As if he knew that his life would be in acting, he joined drama groups at grade four at Raymondel Primary school in Ruwa, the only school he attended in his life, a move which boosted his acting talent.
Oblivious to what the future held, one day he walked through First Street in Harare and saw a certain shabby man gathering crowds by performing different funny acts. The dirty man would make jaw-breaking jokes, lift weights with his teeth and people would jovially give him money in appreciation of his talent.
In 1998, Kapfupi decided to try his luck through acting alonf First Street.
His acts later got screened on ZTV and he gained popularity.
He produced a number of drama series namely Notorious Kapfupi (part one to six), What Goes Around Comes Around and Wrong bag. The series thrilled audience and interestingly won him a big name as a great actor.
"I am yet to do my best, l have a big dream to rise like other great men in drama and music," says Kapfupi.
Determined to reach his destiny as a comedian, Kapfupi believes one cannot rise to greatness without inspiration from other performers.
He says the late popular actor and musician, Safiro Madzikatire inspired him so much to keep re-branding his productions.
"I will not limit myself to music. I see drama and music as one," Kapfupi declares.
He seems to be walking his re-branding talk as he has produced a number of exciting songs.
He is currently working on a film titled Mr Kapfupi.
"I am working hard to produce what will excite the nation. I want my products to keep audience salivating for some more."
While dreaming big in drama and music, Kapfupi says piracy has affected him the same way it affects other musicians.
"Piracy has left us relying on live shows alone. Piracy is now a disease we cannot cure. Unless the government stops it, piracy will remain a cancer to us all."
Married to one Precious "Mai Nga" Kabrito, Kapfupi is a father of four (three girls and one boy).