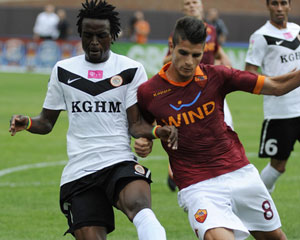 Czech Republic-based Warriors defender Costa Nhamoinesu (CN) has entered history books as the second Zimbabwean after Bruce Grobbelaar to win a European league title.
His club Sparta Prague were last Sunday confirmed as Czech champions to book a place in next season's Uefa Champions League campaign.
Being the Zimbabwean player currently playing at the highest level, Costa has thrust himself and asserted his worth in the demanding European football terrain.
Playing for a club that has Chelsea goalkeeper Petr Cech, Juventus legend Pavel Nedved, Arsenal winger Thomas Rosicky, Jan Koller and Karel Poborsky formerly with Manchester United as luminaries, Costa is in a unique league.
An established player who joined Sparta without undergoing trials, Costa has proven his worth at Sparta who are also chasing the Czech Cup to be played this week.
The 36-time champions have pipped to the Czech Gambrinus Liga Viktoria Plzen who this season contested in that Uefa Champions League Group that included Manchester City, Bayern Munich and CSKA Moscow where Khama Billiat once tried his luck.
Rejected by a nation with a well-documented failure record in African football, Costa has put the rebuff behind him and vowed to play an integral role in making Zimbabwe an indomitable force on the continent.
The left-back has six national Under-20 caps as well as seven Under-23 caps.
With his last Warriors call-up coming from Norman Mapeza for an Africa Cup of Nations (Afcon) qualifier against Mali in 2011 which he did not turn up for due to injury, Costa last featured for the national team in a friendly international against Mozambique in 2007.
Below are excerpts of an exclusive interview Costa offered to Standardsport's Michael Madyira (MM).
MM: How did you come to join Sparta? CN: After my contract ended with Zaglebie Lubin, I was looking for a fresh move since we had not been successful as a team. I had other offers from Turkey and Russia.
MM: Then why did you choose Sparta? CN: Sparta's ambitions right from the beginning captured my interests. They had just one aim and that was to win the league and the main aim being to return to Europe. So I thought it could be a good opportunity for me to play for such an ambitious club with a well-respected history.
MM: Do you remember your first day at training? CN: Yes I do for sure. It started with a physical test at the club's sports faculty and I had the best test among all the guys. MM: How did the other guys receive you? CN: It was much easier for me. The guys were really friendly and a number of them could speak English.
MM: Who did you become close to? CN: Ondrej Svedjik and Kamil Vacek as well as one of the fitness coaches, Tomas Maly. Ondrej once played in Holland while Kamil played in Italy so they understood me a lot. I sometimes go out with them for lunch or dinner.
MM: How did the club manage to take the early Uefa Cup exit to Malmo FF of Sweden? CN: It was almost like a disaster. It was unacceptable to the fans. I remember I did not play the first leg because I was injured but I managed to play in the second leg. We lost and it was not a good situation with the fans.
MM: How did you manage to pick yourselves up as a club? CN: Well I think the club management understood that it happens although it is painful. They then decided to keep everyone together and set a new target which was to win the league title.
MM: Did you ever imagine that you would finish the season as champions? CN: Right from the beginning, that was the mentality at the club and we soon adapted to it. That became an everyday dream to become champions.
MM: How is the mood in Prague right now? CN: The mood is super. After waiting for three years to win the league everyone is all smiles. It is really good.
MM: You featured in every game until you got injured, how did you feel watching the guys do the job while you were on the sidelines? CN: As a player I always want to play because I belong to the soccer field. Watching from the sidelines is like fire burning inside you. But at the same time I understand that soccer is about a team so if one cannot do the job then the next can fill in and the game continues. That is the team spirit.
MM: You scored an own goal in one match but went on to score for Sparta in that same match. What does that say about your character? CN: I think that shows discipline, focus and self-drive.
MM: What went through your mind when you had scored that own goal? CN: When I was lying down I said to myself "game on." I knew I had to keep my head up and remain calm and I just did that.
MM: Let us say an English, Spanish, German, French or Italian team that is not in the Uefa Champions League wants you, would you afford missing the opportunity to play in the Champions League with Sparta and join the team? CN: I would not do that for now. My first choice is Champions League with Sparta. You do realise Manchester United will not be in the Champions League next season right? It is all about the right evaluation. Of course the Champions League is top priority but there are other teams too who can achieve the same goals but failed. For now it is good I have that opportunity with Sparta.
MM: Do you feel ready for the more demanding Champions League? CN: Personally, I feel I understand the game more in terms of tactics but I think I still have more to learn. We will be playing completely different opponents so a lot of work needs to be done.
MM: There has been a misconception back here home that you were playing hide and seek with the national team. Can you set the record straight? CN: Actually I am not playing hide and seek. It has been unfortunate that most of the times when I am called up it is either I would be injured like now or my team doesn't release me. But I believe if there was a board tasked to monitor players playing abroad week in, week out then there will not be such a misconception about me because it would be clear. For example, now I have missed three club games due to injury and some people might not know that because of lack of information so to them, it seems I am playing hide and seek.
MM: How did you feel when you were not being available for the national team? CN: I felt so hurt. I would love to represent my country as a proud Zimbabwean. I know the national team opens more doors for me.
MM: Were you in touch with any Warriors players when you were not being called up? CN: [Clemence] Matawu has been my friend for long. He was the guy I talked to sometimes.
MM: Coach [Ian] Gorowa said you were ready to pay the airfares on your own for that Malawi friendly match. What does that say about your commitment? CN: It is all about respect for my country and how proud I am to be included in the Warriors. It is a great honour for me and I would really love to help and be part of the Warriors.
MM: Will you be available for the Afcon qualifier second leg against Tanzania? CN: I would love to but I am not sure because of this shoulder injury. I thought I would be fit this weekend but the doctor said it is too risky. He preferred a much more cautious approach and not a month. I have some tests next [this] week which I can feature in the Cup final so I will see from there.
MM: Any message to the ghetto youths you always mention in your interviews that side? CN: To the ghetto yuts [youths], I know life is tough out there but we put our trust in God and never look down no matter how difficult it can be. Fight for survival.
MM: And your message to the Warriors fans? CN: I am sure our association is doing its best to help us qualify for Afcon 2015, so let us all be on the same page in good or bad times. Let us support each other with a vision and as one family. As players we will work hard to produce the best results.
Related Topics