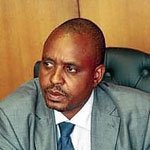 THE Zimbabwe Football Association (Zifa) will shut doors to any Asiagate appeals that did not land on their desk before the Friday deadline.
Report By Brian Nkiwane
Speaking to Standardsport, Zifa chief executive officer Jonathan Mashingaidze said they had given all those who were slapped with life and other various bans enough time to appeal.
"We extended the deadline to allow all those involved to run around and get the appeal fee which was pegged at US$6 000. Yes it's a lot of money but people were given ample time to run around," Mashingaidze said.
He added that only two appeal letters had reached his office.
"We have received only two appeal letters which have successfully passed the rigorous exercise which is done at Zifa. The two letters belong to former CAPS United coach Taurai Mangwiro who was banned for 10 years and Herald Senior Sports Editor Robson Sharuko who was slapped with a life ban.
"After the deadline, we will then communicate with Fifa on who would have appealed so that they can endorse these bans."
Related Topics