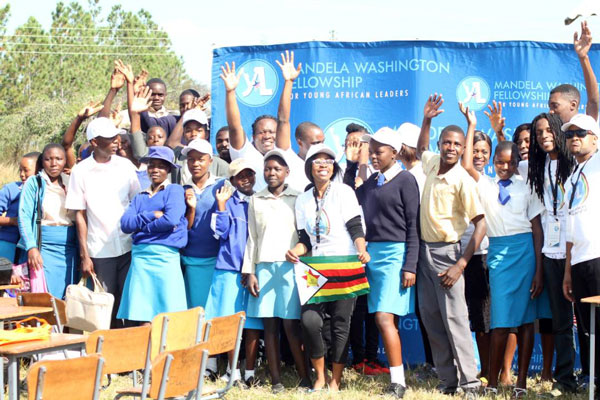 The enthusiasm to open up a world of possibilities was apparent when *Ashton Mutadzi, a student at Mapfeni Satellite school in Goromonzi, stood up to proclaim that he wanted to be a driver when he finished school.
By John Mokwetsi
A question had been posed to him by Matipedza Karase, an aviation expert and Fly Africa founder, who is going to the United States of America this week as part of the 60 young leaders chosen to represent the country in the renowned Mandela Washington Fellowship programme.
A few kilometres, 60 to be specific, away from the glamour and glitter of Harare but far enough from the exposure of an affluent school like Dominican Convent High School, students gathered to listen to the fellows speak about career guidance in their respective fields.
Ashton's submission had drawn mixed feelings and a few laughs that made him slump back into the chair confused as to why his career choice was a point of ridicule.
His scope might have been limited to the buses and cars in his environs.
Karase weighed in to give him confidence.
"In aviation, we have glorified drivers. We call them pilots. They earn very good money and your career is a good choice," Karase said, inciting new interest from students.
"You can never stop dreaming. Your choice is never a mistake. Be a pilot."
Career guidance has been a major deficiency in schools that are marginalised and are isolated from the world due to the late arrival of technological tools like the internet.
Charlene Chekenya, a director at Stand, an organisation that advocates for the rights of young women, organised the event and encouraged more to be done for the marginalised students.
The event also had partners like Adventist Development and Relief Agency (Adra) and Econet supporting it.
Students received donated exercise books, ball points, Maths sets and various textbooks.
Mapfeni Secondary is a satellite school based in Mashonaland East under the Goromonzi Rural District Council.
A satellite school is a subsidiary of a registered school, with little resources but formed to cater for the education of students within its catchment area.
It is usually formed in a farming area with no schools or in an area whose distance to the nearby school is over 20km.
Mapfeni High School is a subsidiary of a nearby primary school and does not have an enabling educational facilities like a library, hall and textbooks or even classrooms. students exchange classrooms for learning.
Josey Mahachi, who is famous for bringing Aliko Dangote, a Nigerian billionaire into Zimbabwe for investment opportunities, encouraged the students to dream big.
Mahachi is also a host on Click TV where she interviews high profile guests that include business people and politicians.
She said: "You can be whoever you want to be no matter your circumstances. Be aggressive and aim for the stars. I did it and so can you."
This was a point reinforced by Loice Kapondo, a women empowerment advocate and Natalie Foti, a food security and climate change officer who intimated that a student must always make a mental note that reinforces the idea of being the head and not the tail.
Among those who engaged the students was Ruzivo Chonyera, an event specialist and television personality who is also the daughter of the Mbira Dzenharira leader Tendai Gahamadze.
Chonyera drew interest with her narration of how she managed at a young age to host her own show, Rhythm Unlimited on ZTV.
Frederick Nkiwane, a commercial banker in Harare also tried to put into layman terms what banking was all about.
Having had a career pivoted from being an engineer to being one of the most influential bankers in the country, Nkiwane spoke about the importance of realising when to adapt and modify plans to make a better decision or seize new opportunities.
He also spoke about the importance of integrity and compliance with the laws of the land in order to build a good reputation as an individual and as institutions.
Lastly, Tashinga Gowera, a graphic designer, shared knowledge on branding and graphic designing.
Perhaps these were all foreign careers compared to the jobs these students are used to — the job of a driver, a security guard or that of a teacher they see everyday.
A teacher at the school summed it up: "The story here could easily be about school dropouts or the hot seating we do.
"It could be about the two blocks that make a whole secondary school or the struggle for resources.
"But sometimes it is important to set aside a familiar narrative and actually give hope. A hope for what the future can be."
As the sun shone on the faces of students who had gathered, it became apparent that despite the strides that the country has made in terms of education and infrastructure, there were still dark areas from where students operate without a compass.
It is only until someone comes their way to handhold them that they begin to see the other side of life.