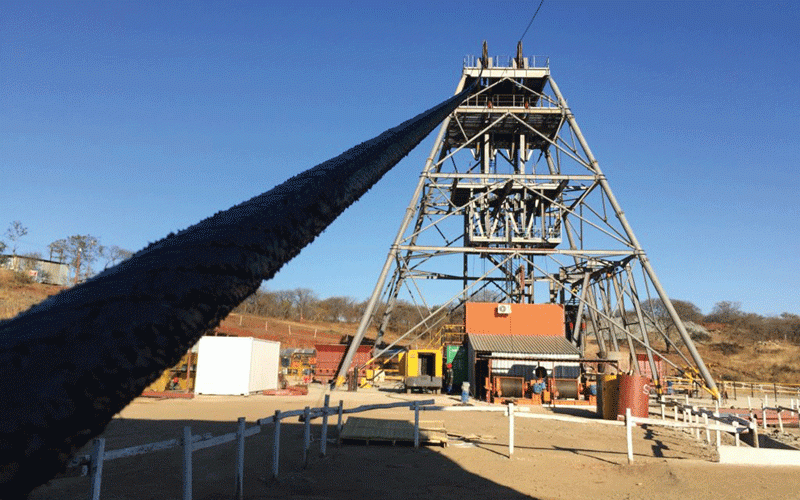 GROSS revenues at the Victoria Falls Stock Exchange-listed Caledonia Mining Corporation fell by 16% to US$29,4 million during the first quarter of this year due to lower production and higher costs at its flagship operation, Blanket Mine.
Last year in the same period, income stood at US$35,1 million.
"The first quarter of 2023 presented several operational challenges at Blanket which resulted in lower production and higher costs," Caledonia chief executive officer Mark Learmonth said in an update to shareholders yesterday.
"We are confident these issues have been identified and addressed, and we reiterate our production guidance for Blanket of between 75 000 and 80 000 ounces of gold.
"We were pleased to complete the acquisition of Bilboes at the start of the quarter. Although the start-up of the Bilboes oxide mining activity was disappointing, this does not detract us from the attraction of the main sulphide project."
The Caledonia chief said the sulphide resource was based on direct drilling results and had been subjected to independent third-party reviews.
He said the multi-asset firm had commenced work on a revised feasibility study for the sulphide project which would consider updated commercial assumptions and would focus on the most judicious way to commercialise this project with the objective of maximising value for shareholders.
"Following Caledonia's oversubscribed fundraise in March and April, which raised approximately US$16,5 million, our balance sheet and operational flexibility have been improved and we are delighted to have new shareholders on our register who believe in our vision, and we hope will support us in the next stage of our growth," he said.
Blanket Mine contributed earnings before interest, taxes, depreciation and amortisation (EBITDA) of US$11,3 million in the quarter, down from US$19,5 million realised in the same period last year.
The group said the reduced EBITDA contribution of US$2,25 million was due to lower revenues and higher operating costs at Blanket and the costs at the Bilboes oxide mine.
On-mine cost per ounce increased from US$698 to US$1 196 per ounce.
"Approximately US$300 of the increase was due to the Bilboes oxides mining activities where production only commenced in the last week of the quarter, but operating costs were incurred for much of the quarter. The on-mine cost per ounce at Blanket increased due to lower gold production (which meant that fixed costs were spread across fewer ounces) and higher than anticipated electricity costs," the firm said.
A total of 16 141 ounces of gold was produced in the quarter, 13% down compared to the prior period. This, according to the company, was due to lower mine production at Blanket than anticipated and the slower-than-expected restart of the Bilboes oxide mine.
"Production at Blanket was lower than expected due to minor mechanical breakdowns and logistical issues which have now been resolved. The rate of production improved in April with 5 202 ounces of gold being produced in the month, which equates to an annualised production rate of approximately 80 000 ounces per annum," it said.
The company is reviewing the commercial viability of the low margin oxides mining activities, which includes assessing the scope to mine and process oxide material from the recently acquired Motapa property, which is immediately adjacent to Bilboes.
Approximately 217 ounces of gold were produced at the Bilboes oxide mine in April, while a further approximately 338 ounces of gold was contained in material that was deposited onto the leach pad in April and is expected to report to production in May.
In the outlook, on-mine costs at Blanket are expected to fall in future quarters due to increased production and lower electricity costs. Accordingly, guidance for on-mine costs at Blanket for 2023 is maintained at the range of US$770 to US$850 per ounce of gold produced at Blanket.
This month, Caledonia revealed that it has commenced the direct sale of gold produced at Blanket Mine to a refiner outside Zimbabwe.
Related Topics