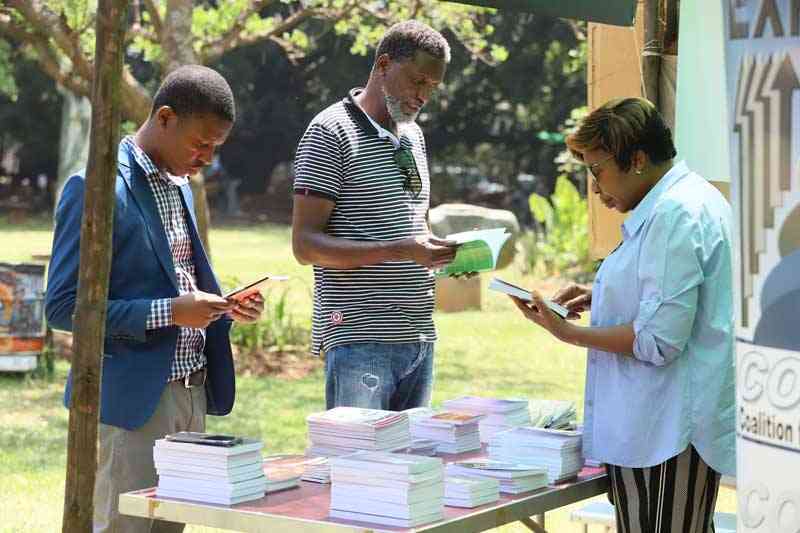 Organisers of the Zimbabwe International Book Fair (ZIBF) say the momentum they had created since the inception of the book festival shortly after independence was disrupted by Covid-19 compelling them to arrange a mini exhibition this year.
ZIBF has been exhibiting books annually at the Harare Gardens since its inception in 1983, however, just like any sector they were forced to abandon the 2020 and 2021 festivals due to the Covid-19 pandemic.
Zimbabwe International Book Fair Association chair Memory Chirere said this year's fair was a mini exhibition that ran for two days under the theme Book Industry: The dynamics within.
"We reflected fully on what we could learn from the book boom in Zimbabwe in the first decade of our independence," said Chirere.
"Then we thought we had staged a meaningful comeback, which could even be galvanised in 2020, but, alas, Covid 19 struck.
"We could not meet here in the past two years."
Chirere said the last book fair in 2019 was successful and he is optimistic that next year's edition would regain its lost mojo.
"The exhibition came as a result of a request from members and key exhibitors who felt that while they cannot afford a full book fair, there was still need to showcase a few items and ideas from the book industry as part of their plans to make a build- up to a full book fair in 2023," he said.
Despite being a mini exhibition, the turnout was dramatically low during the two days, but Chirere said the fair was hurriedly prepared on a short notice.
"You don't expect maximum attendance when it is just a mini fair," Chirere said.
"This is not fully fledged as it is only meant to create ground for our real come back in 2023.
"When you are having a book fair, you can not necessarily talk about numbers for it is not a soccer match.
"At a book fair we have workshops for librarians and writers, which are only attended by people in those particular fields and this year we managed to only have one librarian workshop."
He said the main purpose for the mini exhibition was to make books stakeholders realise the ZIBFA was still around.
"It is more of a PR [public relations] event and not a real book fair because it was not properly done and prepared for," said Chirere.
Only 13 exhibitors showcased their work and observers believe this could be the demise of the ZIBF in the wake of new technologies.
Ethel Kabwato, a female writer, conceded that all was not well in the book industry, hence the low turnout at the book fair.
"Considering the Zimbabwean economy, one cannot go to a book store to purchase a book without putting food on the table first, hence the book industry is not really viable, for this same reason many writers did not show up for the ZIBF this year," she said.
Chirere encouraged the ZIBFA members to pay their subscriptions as they prepare for a big comeback next year with plans to convene the fair between July and August.
"All our members need to refocus and return to the fold because there is strength in unity," he said.
"We need to pay up our subscriptions as members of ZIBFA and we need to re-open channels with our many traditional funding partners.
"We need new partners and members as well as new ways and ideas."
Chirere said ZIBF was a conglomeration made up of publishers, writers, book sellers and government.
Related Topics