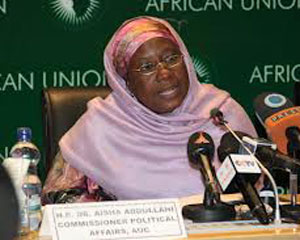 THE African Union (AU) observer mission has said it will not hesitate to condemn the outcome of Wednesday's elections if they are not held in a credible manner.
BY PHYLLIS MBANJE
Addressing journalists in Harare yesterday, deputy head of AU observer mission, Aisha Abdullahi said the continental body was impartial and would not endorse a discredited electoral process and results.
"We will not be associated with a flawed election and we will not accept the results," she said.
Abdullahi however said the AU was so far satisfied with the political climate in Zimbabwe which she described as "peaceful".
"We have observed that the campaigns are being conducted peacefully with a few incidences here and there, but overall we are satisfied," she said.
She said the Zimbabwe Electoral Commission (ZEC) had explained the logistical problems that it experienced during the flawed special voting held on July 14 and 15.
"ZEC admitted that the process was a nightmare and that they faced many challenges," she said. "However, we remain optimistic that there will not be a repeat of the same issue."
In a pre-election statement, the AU observer mission said they had noted the concerns surrounding the special voting and the voter registration processes.
"The process was clouded by uncertainties about funding, logistical and management challenges which the electoral body encountered. AU observers noted that registration was essentially slow in pace.
Thousands more Zimbabweans were unable to register," read the statement. "In all the centres observed by the long term observers, the entire special voting process was paralysed by a failure to deliver ballot papers timeously by ZEC."
The AU mission said they had received complaints for civic organisations that were not happy with being excluded from the electoral process.
The mission also raised questions on the media coverage concerning the state broadcaster which featured Zanu PF more than any other party.
"The mission notes that the national broadcaster has tended to provide live and in-depth coverage largely to a single political party," it said.
One of the observers who spoke on condition of anonymity said they had approached the ZBC over the issue after many political parties had complained about the unfair coverage and being charged higher rates for their adverts.
"We went to ZBC over the issue and whether by coincidence or not, two days later we noticed that the other parties were now being accommodated," said the observer.
Some observers at Electoral Commissions Forum for a Sadc seminar on Friday expressed displeasure at the way the special voting was held by ZEC and questioned its readiness for the national elections.
Many were keen to know how ZEC would be able to hold an election involving 6,2 million voters in one day when they failed in two days to serve over 69 000 people.
"Following the much disputed special voting which saw thousands failing to cast their votes due to logistical hiccups, what guarantee is there that this will not be repeated on election day?" said one observer.
Also speaking at the meeting, MDC-T secretary general and Finance minister, Tendai Biti said the special voting had gross omissions and it was highly unlikely that ZEC would ready itself in time for the harmonised elections.
"The shambolic special voting is evidence that ZEC is not ready, has no capacity to carry out a free and fair election. "In some parts of Masvingo, ballot papers were not delivered while in some areas they arrived as late as 6pm."
Efforts to get a comment from ZEC were fruitless yesterday.
Related Topics