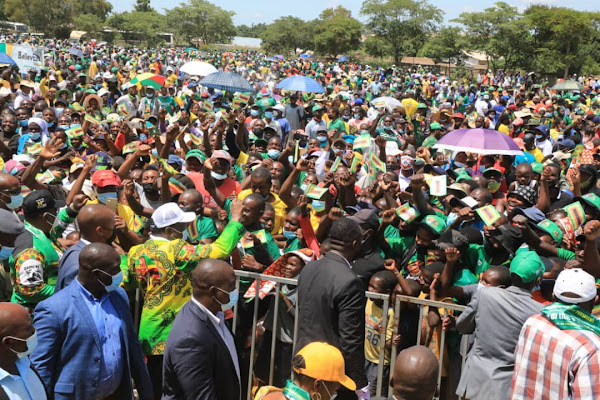 The apparently unfair treatment of the opposition Citizen Coalition for Change (CCC) by the Zimbabwe Republic Police (ZRP) ahead of the March 26 by-elections is another stain on the country's fragile democracy.
Tongues were sent wagging last week when police set tough conditions for CCC to hold its by-elections official launch in Harare today, which seemed not to apply to the Douglas Mwonzora-led MDC-T and the ruling Zanu PF.
Police set strange conditions for CCC, including that the party must not "bus in" supporters to the rally.
They also demanded the party must "observe and stick to Covid-19 regulations."
The Covid-19 regulations state that public gatherings must not exceed 100 people, but this was not enforced when Zanu PF bussed thousands of people to its campaign launch that was held in Harare's Epworth and addressed by President Emmerson Mnangagwa.
Mwonzora on the same day told State-controlled media that his party's official launch of the by-elections campaign was attended by over 5 000 people, but there is no indication that police asked him to adhere to the Covid-19 regulations.
Police said CCC supporters must also not "toyi toyi". As if that was not enough, police on Friday said they were banning "car rallies".
To circumvent the heavy restrictions that seem only reserved for CCC, the party's candidates had resorted to moving around to address potential voters from their cars.
It is such actions that create a perception that the police force is partisan and that erodes the integrity of the institution.
The situation has been worsened by footage of police officers allegedly torturing CCC activists that were arrested in Harare on Friday.
Some of the activists, who appeared in court yesterday for driving around with CCC stickers advertising today's rally, alleged that they were tortured by the police.
Police have also not disassociated themselves from an audio of purported Zanu PF officials plotting to work with law enforcement agents to disrupt the CCC rally.
After the coup that toppled Robert Mugabe in 2017, the ZRP pledged to reform because of the bad reputation it had cultivated for itself by, among other things behaving like an arm of Zanu PF.
The conduct of some police officers when dealing with the opposition, however, shows that the more things change the more they remain the same for the ZRP.
Such conduct soils the country's image and will kill democracy in Zimbabwe.
Related Topics